Fishing Reports
---
Thursday May 12, 2016
The Gambler has had some tough trips; trying to get the stripers and blues to bite but it has been slow. I believe the water just needs to warm-up by a degree or two. We will keep at it.
We are looking forward to the opening weekend of fluke, starting May 21st. We will be fishing for the daily. Check out our trip information page for more details.
---
The Gambler has not been out the last couple days due to the weather. But we are looking forward to getting out there and finding the stripers and blues.
For tomorrow, Saturday the 30th, the Gambler will run a special RFA trip, primarily targeting cod. We leave at 5AM and return by 5PM.
Also, on Friday, May 13th, the Gambler will run a special trip, sponsored by ACCURATE reels, for Striped bass and Blues. Leaving at 7AM and returning by 2PM. Tickets can be purchased through zerve. Cost is $63 adult, $57. Accurate will have products to test and loaner gear to pass out. Bring all your own gear and test Accurates, too. Also, each fisherman will receive a tee shirt and an Accurate sticker.
The biggest Striped Bass will win an Accuate FX-400GS
The Biggest Bluefish will win an Accurate Sweatshirt

The evening before the trip, Thursday, May 12th at 7pm, Accurate will sponsor a seminar at the Reel Seat tackle shop in Brielle.  Accurate will  provide Pizza and beverages. The seminar will focus on Accurate Reels and Rods and how to get the most out of them.  Although you are not required to attend the seminar, we encourage anglers to come and learn about the products before they use it the following day.
---
Monday April 25, 2016
The Gambler was offshore on a golden tilefish trip on Sunday. It was tough fishing. There was a lot of current and hard to hold bottom. There were a few caught but the guys needed an excessive amount of weight to reach bottom
Capt Mike took the Gambler in search of striper and blues today. They found and caught loads of bunker. The customers live lined the bunkers and tried some other methods but no bites with that.
He next took them offshore for some mackerel and caught some of them. On their way in, stopped closer to home and caught a big bluefish.
Our cod and wreck-fishing trip, leaving Saturday the 30th, still has room. If you'd like more information, contact Jill at 732-295-7569
We will continue to search for Bass and blues on a daily basis except for Saturday the 30th.
---
Monday April 18, 2016
The Gambler crew took a short exploratory trip today, looking for striped bass and blues. Not far from the inlet, they had some readings on the fish-finder and saw some fish finning on top. Casting out to them, they quickly hooked into blues that readily grabbed any lure that was in their path. Once one was hooked, up to 6 or 8 blues would follow it almost all the way to the boat. It appeared, from the marks on the fish finder, that striped bass were holding just below the blues, but none were hooked.
With this new development, the Gambler will now switch over to striped bass and bluefish, starting tomorrow and sailing everyday except this Sunday, because this Sunday, the Gambler will be on a golden tilefish trip (weather permitting).
Now targeting Striped Bass and Bluefish  -- the Gambler will be ready to catch stripers and blues in any manner it takes: Jigging, live bait or clamming. We will have virtually everything you'll need right on board. Our hours are 7AM till 2:30 PM. Price is $63. Senior fare is $57 and child fare is $38. Rod and reel can be rented on board for $6. Tackle is available on board for sale in our galley.
---
Saturday April 2. 2016
Slow to start today, with continually changing conditions, but wound up with some cod in the second half.

The water had changed since Wednesday, cleaner and probably cooler near the bottom. There were far fewer dogfish and better percent of the cod were caught on bait this time.

Mikey had 3 keepers and two shorts on Bait. Rich had two keepers on a slow retrieved, rubber tailed jig --one close to 10lbs.

I tried jigging again today but I never had a hit.

I was thinking that a slow retrieved bucktail with penny colored gulp might work good on these trips.

We didn't try for taug today but that option is always on the table.

I saw plenty of bait on my fish-finder on the way back but didn't mark anything that I could say was a striper in it.

Tomorrow and Monday are a no-go due to the weather. Tuesday looks okay and Weds looks very nice.
---
Thursday March 31, 2016
We took the Gambler for a ride today to check everything out and get some fishing in. Looked down the beach a-ways and tried 3 drifts for stripers but had no bites.

Headed East and decided to try some rough bottom in 110 ft. Plenty of dogs to start but Anthony tossed a jig and caught a keeper cod pretty quick. So we started jigging up some nice keeper cod between 6 and 8lbs --only one throw back. Tried another wreck not too far away and had a good sign of blackfish too --which we released-- on clams.

For just over 2 hours fishing, 6 of us caught a dozen keeper cod --most were on jigs.
In Other News ...
We are supposed to start 7AM till 2:30PM daily, starting Friday but Friday's weather looks bad. Saturday's weather looks like a good shot. We'll be targeting cod, ling and taug. Working on getting crabs for Saturday but if not, taug will hit clams too, especially this time of year.
We also had to nix our tilefish trip for Sunday due to high winds.
The Gambler will be running a special trip to help raise money for the RFA on April 30th. Here is the information, listed below. The RFA helps to keep all of us fishing. Please support them. This is the official Trip Sign Up Post: You can sign up at www.rfanj.org via paypal or send a check via details provided in link below.Link to trip and details: http://www.dneconsulting.com/RFA-NJ_..._Trip_2016.pdf
Capt Bobby has again extended his services and commitment to RFA-NJ to run this trip. We all know he can "Get Em" on the Gambler. Best offshore platform for the 20 to 40 mile wrecks! We had a great time last year and some quality Pollack and Cod hit the decks. Look forward to sailing with all of you again and hopefully some newcomers.

Proceeds from this trip will go to fighting the National Marine Sanctuary proposal, SSFFF and / or whatever else we need to do to help RFA-NJ help us for our Recreational fishing future.

Need 30 to Sail / Max 40 to 45

Trip Date Sat April 30
Boat: Gambler Point Pleasant
Time: 5AM to 5PM 12 hr
Cost: $150 PP

Rod / Reel Rentals will be available including first rig and weight for no charge for anyone who needs a setup.
Extra Rigs and weights will be available at boat prices

Galley will be open in the AM for Breakfast Sandwiches and Burgers etc during the day
RFA-NJ is still providing Lunch and soft drinks included in your fare.
---
Friday March 25, 2016
The Gambler and crew are geared up and raring to go fishing. Starting April 1st, we will be fishing 7AM till 2:30 PM daily (except for Sundays) wreck fishing for cod, blackfish and ling. As always, all fresh bait provided. Fare is $60 adult, $55 senior and $35 child. Rod and reel rental are available on board and we sell tackle and food too.
On Sundays (leaving Saturday nights) the Gambler will be headed offshore, fishing for Golden Tilefish in the deep waters of the canyons. These trips last about 20 hours. We have just about everything you'll need on board. Call early to reserve rental gear. This trip is by reservation only and limited to just 25 passengers or less. Call Jill at 732-295-7569 or purchase tickets on the Zerve button above.
Our striped bass trips will begin on May 1st --unless the stripers show-up earlier-- and we will fish everyday for them, leaving at 7AM and returning by 2:30PM. We will be ready to catch them with lures, live bait or clams --whatever it takes. Prices are the same as the wreck fishing trips above.
Also, the Gambler will try something new this year, called "Shark in the Dark"! With all the shark reports last year, up and down the coast, we thought this might be an exciting opportunity to catch and tag some sharks this summer. Check it out on our Zerve page or email us at captbogan@aol.com for more information.
---
Wednesday January 20, 2016
The Gambler has concluded our winter fishing schedule and will resume this spring. Watch our website for changes. Captain Bob will be doing a seminar at the reel seat in February (date to be determined) and he will have a booth at the NJ Salt Water Fishing Expo in Somerset, March 18th thru the 20th --come visit us for special deals and our tuna schedules, shirts and more.
Thanks for a great 2015. Looking forward to an even better 2016!
---
Saturday January 2, 2016
Took a ride in search of striped bass today and we were not disappointed.

Tried on some bird action in tight to the surf but it looked like mostly bait-fish.
Ran further along the beach, about a mile off, and deck hand Chris spotted birds 4 miles ahead. They were so heavy that they looked like smoke from that distance. The gannets and sea gulls were spread from the beach out to the 3 mile line.
Set it on a drift in the midst of the fray, about a mile off the beach, and we started catching shorts, keepers and blues right away. Croc spoons and shads lures seemed to work best. The fish were feeding primarily on herring.

Caught fish for 2 straight hours and only moved because we were approaching the 3 mile line.
Made a couple more drifts in closer to the beach that were good action too. Limited out on keepers over 28.
Bill Ruha caught a 20+ lber and released 5 other bass over 28'' along with some short bass and a big bluefish. Bill was using a croc spoon. John from the Real Seat was out with us and he won the pool with a 20+ lber and released about 10 other fish.

We didn't have any bass over 43" and our slot season is over but it was great fun and everyone brought home a keeper.

Weather looks good for tomorrow and the Gambler will be fishing daily, 7:30 till 2:30, for as long as the stripers are around. The surface temp is about 6 degrees above normal for this time of year.
---
December 29, 2015
Our last couple offshore sea bass trips were a bit disappointing. The earlier
trip we had plenty of fish but not too many big ones. The last trip, Saturday, we had Bigger sea bass and porgies but not great numbers. One more trip for sea bass tonight --the crew and I will take our best shot at it.
Starting Saturday, Jan 2nd, The Gambler will make her best attempt at fishing for striped bass on a daily basis. The water is still very warm and the baitfish are around so I really think we should find and catch some stripers. We'll run the same hours as the fall: 7:30 till 2:30 everyday. The westerly winds forecast for the weekend should help too. We'll be fishing with jigs and lures but ready to catch live bait too.
---
December 17, 2015
The Gambler came back from a great, offshore sea bass trip. I believe everyone had their limit. Big Jumbos. Not too much variety on two wrecks but lots of black sea bass.

We will have to cancel our Saturday offshore Sea bass trip due to the offshore forecast.

But the wind on Saturday will be westerly and strong west winds are usually good for catching striped bass. Come out with us if you can.
---
December 13, 2015
Another terrific day of fishing. Good catch of big blues with a limit of slot bass and some bigger keepers up to 34".

The guys only took the blues they needed and we netted and released the rest.

The action slowed up after 11:30 so we took and ride and found another patch of birds with bass and blues under them.

Weather couldn't have been nicer.

Fish are feeding on herring, mackerel, butterfish, peanut bunker and rainfish. So just about any lure will do the trick as long as it is worked correctly.

Correctly means: Cast underhand, let it hit the bottom, crank all the way back in. The lure needs to be retrieved fast enough to look like it's swimming --if it doesn't look like swimming to you, it won't look like a meal to a bass.

See you tomorrow.

Monday looks like some rain and wind, so I think we'll stay in for maintenance and get ready for our offshore sea bass trips. We'll be back to stripers on Tuesday but offshore on Weds this week. You can check our schedule on our site.
---
December 10, 2015

A good day of fishing with keeper bass over 28", slot sized bass, short bass, big bluefish, boston mackerel and herring.

Birds were working, up and down, into the beach and off to 2 miles today. It was hit and run fishing. Stop, get a good drift or just a couple fish. Run a few miles, do it again.

Lots of baitfish around and they jigged a few mackerel and even used a few for live baits to land a couple of big, cow bass.

Awesome weather that is forecast right thru the weekend.
---
December 2, 2015
We did not go yesterday, due to rough seas, but Tuesday and today were great fishing for striped bass.

Tuesday was very good on a mix of big, slot-sized and short bass. With bass up to 20+ lbs and a limit of slot fish, it was steady action, all on lures. Tuesday was rough seas and the Gambler was the only boat out that day but the guys on board were rewarded for their efforts.

Today, we did not have enough passengers and there was only one other party boat trying to sail this morning. Between the two we combined for a total of 12 hardcore fishermen and the Gambler went.

I didn't know what to expect after yesterday's blowing rain but shortly after breaking the inlet, we saw some readings, put it on a drift and caught 6 or 7 slot fish right off the bat. After that, it just got better. There were no birds over the fish, we just stopped on readings and the drifts produced striped bass and big bluefish on spoons, shads and ava jigs.

Nice to still see some big bluefish around but they did put a hurting on the rubber shads.

We limited out on slot-sized stripers and were releasing them by noon. But we also landed a handful of bigger stripers, up to 35", on the same drifts.

Tomorrow is calling for some wind --but do not let it keep you home; it is a west wind, we will be fishing inside of 3 miles; where we are fishing (in the lee of the land) that wind will only flatten the seas out.

Gift certificates can be purchased on board or by calling Jill at 732-295-7569

The Gambler will be making a limited amount of offshore wreck trips for jumbo sea bass in late December. Check our website for details.
---
Saturday November 28, 2015
Kind of tough striper fishing for us yesterday. Lots of birds around and some decent marks on the fish finder but hard to catch. We did get some slot fish, a few over 28 and a couple big blues but it was hardly enough for the nice crowd that we had aboard.
Today we tried a different area and saw less bird action and fewer readings but the action was good on keepers 28" to 42", slot bass, short bass and a few big blues. Our first 2 drifts were 40 minutes of steady action. Fish were mostly grabbing shads lures and croc spoons. After that, it was hit and run with 2 to 6 fish per drift. The guys that worked hard at it put fish in the boat --cast, hit the bottom and crank the handle. Look at the lure in the water as it comes to the boat --if it doesn't look like it's swimming, it will not provoke a bite. You can crank the shads a little slower than the spoons.
Also, do not put your hands in your pockets if the birds are not near the boat. Trust your captain's know-how and his fish finding equipment. Think of the birds on top as the tip of an iceberg.
Don't let a little rain keep you home. Bring your rain gear and let's go striper fishing.
---
Monday November 16th, 2015
Yesterday was slow fishing but today the big stripers came on heavy. Excellent fishing on jigs with bass up to 46". By 11AM it was catch and release.

The Gambler will be headed offshore tonight for one more canyon run, so we will not be striper fishing tomorrow (Tuesday November 17th).

On Thanksgiving day, the Gambler will run a half day striper trip, leaving at 7:30 and returning by 12:30. The fare on Thanksgiving day will be $50 adult, $45 for seniors and active military and $30 children 12 and under.
---
November 11, 2015
The stripers have been elusive since our last report. The weekend was a tough go but there have been trips were big blues gave us some action.

Yesterday the bass and blues didn't bite but there was a mass of bait and birds working up and down the beach out to about a mile.

Capt Mike has the Gambler out today with just a few hardened fishermen who don't mind a little rain. They were rewarded for their efforts. These picts were sent to me by the crew at about 10AM. At 12:30, Capt Mike told me it has been catch and release, furious action.

Just goes to show that you shouldn't just wait for a good report. You just don't know when the stripers will turn on again. These fish were taken on jigs.

Also, if you see hard Northwest wind, don't let it keep you home. --It won't be rough because we have to fish within 3 miles-- which means we'll be leeward of the land.
---
October 24, 2015
The canyon fishing remains good, catching yellowfin and longfin tunas from 30 to 100lbs. There has been a beautiful warm water eddy that has been moving slowly down the shelf wall and the fish are frenzied in it. Anglers on board are catching them on butterfish, sardines and squid baits. Jigs are also doing the job for the guys that stick with it. The water looks so good and promising that we've decided to fish into November --one day a week-- with the trips leaving 8PM and returning next day at aprox 8:00 on Tues nights. Don't miss it. Best Canyon fishing in years and no sign of it slowing-up.

Just a few days before the Gambler starts targeting stripers, fishing everyday except Tuesdays thru November and hopefully in December. Bring your favorite jigs and lures and let's get them chomping.

We have some special dates set aside in late December for Jumbo Offshore Sea bass, Porgies, Cod, Pollock and Hake. Dates are on the Zerve page or call Jill.

Call Jill for reservations or info on any of these trips at 732-295-7569

Please note: You do not need to make a reservation for daily striper trips
---
October 16, 2015
Awesome tuna action at the Hudson again!
Left at 8AM for a 36 hour trip with 22 anglers aboard. As we approached the canyon. we made some drifts for mahi and had good excitement with those for about 3 hours with fish up to 12lbs.
After that, we settled on anchor. Slow to start but then got good in flurries and lulls. Yellowfin were 30 to 100 lbs. Longfin were 30 to 50 lbs. A 150 lb bigeye was also boated. By 6 AM the action slowed up but the guys had enough tuna so captain Bob hit a deep water wreck about 10 miles to the west of the canyon tip where we caught 20+ pollock up to 22 lbs and 3 jumbo white hake.
Great trip with a lot of diversity and terrific numbers.
Still plenty of room for Monday/ Tuesday trip. Also, open spots for trip leaving this Weds into Thursday. Call Jill for latest availability.
We'll be adding some canyon trips into November.
Stay tuned to our website
---
October 7, 2015
The Gambler had a good offshore trip. Nearly caught our limit of yellowfin tuna, 40 to 70 lbers. Most of the yellowfin were caught in the dark on butterfish or sardines. A few were taken on jigs too. There were also a 150 and a 100 lb swordfish caught during the night. The swords took regular baits that were floated out for tuna --nothing special. Also caught a few mahi in the dark and saw a mako shark and a blue shark.
The longfin albacore bite was hot from just before sun rise and they  through for the rest of the day light hours in flurries and lulls. Light leader and flat lines helped during the day light. We still managed a few yellowfin during the day light too.
Great trip, great group of guys, awesome weather.
Still room on some of our upcoming trips. For most recent availability, call Jill at 732-295-7569
---
September 15, 2015
The Gambler has been fishing for fluke out to the Southeast a few miles this past week. Plenty of short action most trips with a fair amount keepers up to 4 or 5 lbs. On our fluke drifts we are also catching some small blues, mackerel, sea bass, sea robins, sand sharks and skates.
This will be our final week for 1/2 day fluke, night blues and Nite Wreckin' for the season. We will transition to exotics and Offshore canyon tuna beginning on the 21st.
This whole week looks like excellent weather so take advantage of it.
There are still openings on our first offshore canyon trip of the season, which is a 48 hour excursion. This trip gives us lots of extra time to diversify. Our main target will be yellowfin and longfin tuna but there will be ample opportunity to hunt tilefish, mahi, swordfish and bigeyes. We will probably have enough fishing time to try some deepwater wrecks and even give trolling a shot. Anything is possible and this is one of the best trips if you are into hardcore, long-range west coast style trips.
Due to popular demand, we have added another exotics trip on Tuesday, Sept 29th, leaving at 6AM.
We will run a 36 hour NJfishing.com trip leaving Sept 30th. This date will have some good prizes to raffle off sponsored by Bimini Bay, Reel Seat Tackle and others, including a free 24hour canyon trip on the Gambler as a door prize. Proceeds from the raffle will go directly to SSFFF who is hiring scientists that will help keep us fishing for fluke. There is still plenty of room on this trip, so sign up soon.
Proceeds From the NJfishing trip raffle will go directly to SSFFF. This organization has done tremendous work with scientists to keep us fishing for fluke for generations to come. But we still need your support --there is still work to do. The SSFFF is exceptional in that no member has ever taken any money for personal use --ALL proceeds have gone directly to good science so that we may keep fishing for fluke for generations to come. Please continue to support. Thanks.
---
September 8, 2015
The fluke fishing has had some good moments recently. Some bigger fish are being taken, including a 9+ lber caught by Nico Matina from Brick. There is also action on short sized fluke along with other types of fish, like blues and sea bass on our fluke drifts. Matt Brown from PA caught his limit on Sunday and Rich Johnson of Brick had his limit this weekend also. The fluking should continue to be good as long as the weather conditions stay the same.
Our night trips for blues this weekend were slow, as was the Nite Wreckin on Thursday. But we are optimistic that the night trips will be good again this coming weekend.
---
August 20, 2015
Fluking has been slow lately. We have been seeing a fair amount of throw-back sized fluke but not a lot of keepers. I am confident that the fluke fishing will get better --just a lull in the action. 

Our night wreck trip last Thursday produced good action on 1 to 3lb ling along with a few cod.

And our night blue trips on Thursday and Friday nights were good on 1 to 3lb blues and 1lb mackerel --plenty fun-- and at times were taken 2 at a time.
---
August 11, 2015
Fluke fishing has slowed since the NE blow that started on Friday. Tough fishing as the fluke seemed to have hunkered down until the seas subside. Just before that, it was pretty good, with high hooks on the half day trips between 3 and four keepers up to 5lbs. Over the weekend, the sea bass would have helped to fill the buckets and coolers --some really nice ones came over the rails-- but the regs prohibited that. Looking forward to the fluke bite turning on again soon as the sea should not be as churned up. Looks like nice weather for the rest of the week.
Our Nite Wreckin' trip on Thursday was good on mixed sized ling up to 3lbs and we are still seeing a few cod. We are mostly fishing in 125ft.
Our night bluefish trip on Saturday night was good on small blues up to 2lbs and 1lb mackerels --both of which could be landed 2 or even 3 at a time with a mackerel rig. The mackerels are good to eat as long as they are kept in a cooler with ice for the duration of the trip. I like to marinate the mackerel and bluefish filets overnight in teriyaki sauce or Italian dressing and then bake at 10-15 minutes max.
---
July 28, 2015
The fluke seem to have spread out recently. It seems we can stop in just about any depth from the beach out to 65+ foot deep and catch fish. But we need to cover some ground to put a catch together. We had pretty good drifts on Sunday but the Gambler was drifting about 1knot to make that catch. Pool winners have been 5 or 6lbs lately. Not as many sea bass the last few trips. My observation is that bait draggers are doing as well as spro-jiggers.
The night wreck trip on Thursday was decent --not as good as last week but still okay. Still waiting on our squid to show-up but I think the water needs to turn a little bluer before they do. Still an occasional cod in the mix as well as big winter flounder.
The night blue-fishing was good on small bluefish and big mackerels. We will be fishing for blues and mackerel on Friday and Saturday nights
---
July 21, 2015
Our fluke fishing over the weekend produced a lot of action on fluke sea bass and other critters --just not too many keepers. This morning (Monday) got into some bigger fluke again when the drift was right --when the wind was up against the current it slowed up. But one guy on board had 3 keeper fluke over 4lbs plus a couple big sea bass.
Our Nite Wreckin' this week was good on mixed sized ling with a couple of keeper cod and flounder. Not too many squid seen under the lights yet.
And the Gambler's night bluefish trip on Saturday was great action on small blues.
---
July 17, 2015
Fluke fishing had been slow-spotty during and after the Nor'east blow last weekend. But it seemed to be bouncing back today. Had some nice sized fluke, sea bass and even some ling along with the usual suspects like sea robins, and skates. Fishing a little deeper and seemed like bait draggers out-fished the spro-jiggers this morning.


The night Wreckin' trip last night was good on mixed sized ling up to 3lbs. Still catching a couple keeper cod and a couple big flounder came over the rail.
---
When the weather allows it, we've been getting decent action on fluke. The ratio of shorts to keepers has increased lately but big sea bass have helped out a lot, catching them right on our fluke drifts. Pool winning fluke recently have been 4 or 5lbs. It seems to me that spro jigging and traditional fluke rigs have been working equally as well.
Our Nite Wreckin' trips have been a slow, steady catch of bigger ling. We are still catching some keeper cod on these trips too --up to 5 or 6lbs. Not too many squid under the lights yet but we actually caught a couple of keeper lobsters on our last trip. Our first winter flounder of the season were caught on our last Wreckin' trip and I believe that if someone were to actually try to catch them, they might get a pair. The flounder out there are very big --sometimes up to 4lbs. We are currently making the Nite Wreckin trip on Thursday and Friday nights. Bluefishing will be on Saturday nights.
---
June 29, 2015
The Gambler had good fishing on some bigger fluke and sea bass through the week until we encountered a Nor'easter which began Saturday and affected the ocean through Sunday. Hard to catch anything in those kind of seas. Thankfully, fishing seems to be bouncing back already today. Had a fair amount of keeper fluke this morning, along with some short fluke action and a decent amount of keeper sea bass.
Our Nite Wreckin' trip on Thursday consisted of a slow, steady pick of baseball bat sized ling. The blue-fishing was poor on Friday night, so Capt Mike decided to switch over to the bottom fishing again. We are glad to have something to fall back on. Starting this week, we are officially switching to Thursday and Friday nights for our Wreckin' trips. Blue-fishing will be Saturday nights only until the bite picks up --and the captain may decide even on Saturday nights to hit the rocks and wrecks. We'll be ready for anything.
---
June 22, 2015
Too bad the weather man scared away most of our fishermen for Father's day. Today, Monday was looking good with some nice keeper fluke up to 6lbs and some big sea bass coming over the rails. Some really nice sized fluke are showing up. Anthony Maglia of Hoboken was out with us on Friday afternoon to catch a nice 7.7lber.
Our night trips are tough on the blue-fishing lately, but there are other species we can fall back on if they are not around.
---
June 17, 2015
The fluke fishing has really picked up. Lots of action with a good showing of keepers up to 6+ lbs. This past Sunday and Monday were best fluking of the year so far. Both spro jigs and traditional fluke rigs are taking fish.
| | |
| --- | --- |
| | |
| Courtney with a 5lber - Her second 5lber of the Day! | Ian Moffitt with a 7lber! |
June 8. 2015
We had it tough during the week days with weather. Nothing at all to report until Saturday. On Saturday and Sunday morning, the Gambler had some action on fluke, including a 5lber caught by Ralph Riveria, of Brick. Also in the mix to help fill the coolers were some nice sea bass. Scott Kiss was out with his family on Saturday afternoon and filled a small cooler with the beauties. Along with those two species, we are also seeing some sundials, sand sharks, searobins, four-spot flounder, ling and even a few cod (which shows how cool the water still is.) Weather was not good out there again today (Monday), unfortunately so it affected the fishing. We have been spotting humpback whales on several of our trips so far this spring --so keep watch.
On our night trip this Saturday, Capt Mike took the Gambler off about 20 miles and set her on a drift. The reports for blue fishing had been sparse, but when he got into the area, he found good marks on his fish finder. Within a few moments, there were clouds of schooling mackerel all around the boat. Our customers soon began bailing the feisty one-pounders over the rails. Big blues were spotted chasing the mackerel but could not be enticed to take our offerings --even when it was a live mackerel bait. Everyone had a lot of fun catching them and there was one bluefish caught. At least, if the blues aren't bitting, we'll have a mac attack to depend on. Try to bring a cooler to store your macks, or bluefish, in to keep them fresh. We sell ice on the dock. Best way to cook the mackerel is marinate over night and grill with a smoker box (easily Googled).
The Gambler will start her Nite Wreckin' trips on Thursdays, leaving 7:30 and Wreckin' every Thursday night through the summer. Target: Ling, cod, flounder, squid and other bottom dwellers. Be prepared for anything! (Or, leave it to us, we have everything you'll need on board).
May 29, 2015
We were pretty satisfied with Memorial Day weekend's fluke action. A lot of shorts with a few keepers in the mix, along with the usual suspects, such as sea robins, sundials and sandsharks. But by Sunday afternoon, the water began to chill with the southerly current. At the start of the weekend, the surface temp was 57f but by yesterday it had dropped to a frigid 45f. The cold water put the fish into a dormant state and very few were caught. Today, however, the temp was coming back up with a northerly current and I am hopeful for the weekend.
On Friday and Saturday night, we will be fishing for stripers and blues.
May 15, 2015
Still catchin' da big blues. It was good early yesterday and steady fishing today. Still on jigs. Blues range 6 to 12lbs. Still not seeing the bunkers or bass yet but this is good action till that happens.

The Gambler will change over to 1/2 day fluking on the 22nd, fishing for them daily. And every Friday and Saturday evening for stripers starting the 22nd. Check out our website for details.
May 9, 2015
Good steady bluefish action again today. 6 to 12lb range, all on lures. Towards the end of the day, released many. Still looking to get the striper bite going but this is a lot of fun in the mean time.


I cooked up some bluefish filets twice this week. I like my blues fresh. Rather than freeze the extras filets, I give some away to friends along with this great recipe:
Rinse bluefish filets off with cold water and run your fingers across to look for any stray bones. For marinating purposes, I cut my filets in half but you don't have to. Pat excess water off with a paper towel.
Marinate filets 6 to 24 hours in any combination of the following:

Italian dressing
Balsamic dressing
Teriyaki sauce or marinade
Worcester sauce
Lemon or lime juice
Or equal parts mustard and ketchup, with brown sugar, melted butter and a little clove

Pre-heat oven to 350
Lightly sprinkle filets with salt, pepper or other herbs.
Place fillets dark-side down into a baking dish, dark-side down.
Bake at 350 for 15 minutes --do not over cook. Once fork can go through filet with no resistance, it is done.
I just flake the darker meat aside as I'm eating it (nothing wrong with it, just a little strong). If I have enough left overs, I'll make a bluefish salad with mayo and chopped-up vegetables. This is great eating. I think that bluefish has been maligned as a food fish due to mishandling (left on the deck to bake) and over cooking. Try bluefish this way and you will not be disappointed.

Looking forward to getting out there again tomorrow. Def want to get into the bass but in the meantime, we are thankful for the chopper action.
May 2, 2015
Very good blue-fishing today, not far from our inlet. Blues ranged from 5 to 12lbs. Bites almost every cast. Didn't seem to matter what lure you used. We are fishing everyday, targeting striped bass and blues. 7AM till 2:30
April 27, 2015
The Gambler was out Saturday for an RFA fundraiser trip. We set off at 5AM for a 12 hour trip. First spot was about 40 miles offshore. We caught some smaller cod, a handful of big ling, a few pollock and some sallygrowlers. We then ran south another 20 miles and got into some bigger cod (up to 15lbs) and some bigger pollock (up to 25lbs) It was an alright trip with some fun guys and gals.
Yesterday was our first Striped bass trip. We zig-zagged our way north, looking for signs of life. But we didn't stop the boat until we got around the Hook. Water is still cold for this time of year. We did see stripers but they were hard to catch. At times, they would follow our lures right to the boat, before turning away. We did catch one nice keeper and it will only get better as the water warms up. The Gambler is ready to catch stripers by whatever means it takes: jigging, live bait or clamming.
April 23, 2015
The Gambler has been chartered for a fund raiser for this Saturday the 25th.
On Sunday, we will begin fishing for Striped bass, fishing 7 AM till 2 PM every day. For our striped bass trips, we will be ready virtually any situation: jigging, clamming or live bait fishing.
April 15, 2015
We started shallower today, looking for blackfish, but the water is still too cold. Moved off a few miles and had a slow pick of small cod a taugs. Pool winner was a 7lb blackfish.
April 1, 2015
The Gambler kicked off the spring season today with a 7AM trip that steamed off to the rocks and wrecks 20 miles out. With 16 anglers on board, we set anchor in 135ft and started catching some small cod. Shifting the boat around, we had a slow pick of cod and ling with some congers and a few dogfish. By no means great fishing but it was good to see some fish coming over the rails. Moved to another wreck that was somewhat shallower and the action was a little faster, again with smaller cod and a few nicer ling. Also, a couple nice taug were taken. One was over 9lbs.
Looking forward to getting out again tomorrow. Weather looks dicey for Friday.
March 30, 2015
The Gambler will begin fishing April 1st, everyday, leaving at 7AM and returning by 2:30 PM.
Fishing the wrecks and rocks, targeting cod, ling and taug. Fare is $60 adult, $55 senior and $35 under 12. Rod and reel rental $5.
Tackle available on board.
Dec 23, 2014
The Gambler customers and crew had a great weekend fishing the offshore sea bass grounds. Excellent catch of mostly jumbo sea bass. On the first trip, we also had some porgies and a few Pollock and ling. We still have room on trips leaving 26th, 28th, 30th and 31st.
Starting Friday, January 2nd, the Gambler will run daily 7AM to 5PM trips for Cod and multi species, which may include ling, porgies, blackfish, flounder,  pollock and more. These trips will run 20 to 40+ miles offshore. Weather permitting, we plan to fish that schedule every day. The cost is $85. Senior fare is $75 and child fare is $40. Rod and reel can be rented for $10. Tackle available. Hot food galley on board. Heated cabin. Open boat -- no reservations.
Dec 9, 2014
Some weather, huh? We have not been fishing due to the wind and rain. I was getting ready to turn over to bottom fishing but decided to give striper fishing one last shot through the weekend. We will be ready to fish with lures or clams. I haven't decided whether to look up or down the beach but I'll check my log books from previous years and figure something out. I have several back-up plans to try-out if we can't find jigging fish. I can't guarantee anything but it wouldn't be the first time that the striper action rallied back for extra innings. Worth a shot for any die-hards out there. We may be a little hard-headed but the Gambler crew does not give up easily. We are looking to go with even a small load just to see what we can find.
Capt Bob's striper eye for the next few days weather-wise: Tomorrow 10th: probably not
                                                                                               Thursday 11th: looks okay
                                                                                                Friday 12th: looks good
                                                                                                Saturday 13th: looks good
                                                                                                Sunday 14th: looks good
Nov 24, 2014
Poor striper action yesterday, all around. But the water temp remains good and there are bait fish, so, hopefully, the striped bass action will turn on soon. Weather looks good right through the weekend. Maybe this Nor'easter will change things around, too. We are geared up and ready to do whatever it takes to get bass in the boat. So hang in there --they'll turn on again-- hopefully with a vengeance.
Nov 18, 2014
We had a tough day for stripers on Sunday. Did not make it today or yesterday because of weather reports.
Tomorrow looks good and we'll go out with even a few guys just to keep the ball rolling.
Thursday is showing wind gusts up to 30, but it is a westerly breeze, so it won't be rough and is often one of the best winds for striper fishing.
Friday and Saturday look very nice.
My sources tell me that a new body of stripers has begun to move into area. We'll start to see fewer of the big cow bass, but still should get into some keepers and short bass and blues.
On Thanksgiving, the Gambler will run a special 1/2 day trip --just to get you out of her hair-- and have you home in time for supper. Leave at 7:30 and return by 12:30. Thanksgiving fare is $45, $40 senior, $25 child under 13.
Nov 11th, 2014
It was a tough weekend for striped bass fishing. A lot of traffic may have spooked the fish. Yesterday was better action with some bruiser blues chomping jigs and spoons, a few short bass and a couple nice keeper bass. Just spoke with Capt Mike who has the Gambler out today and he said there are many stripers showing on the fish finder but they are not taking any offering.... yet.  It could easily turn on before the day is through. Looks like good weather through the rest of the week.
Nov 4th, 2014
Looks like the wind and rain over the weekend put the fire out for striped bass fishing. Caught some bluefish but no bass the last two days. Towards the end of the day yesterday, saw big explosions of bunker being chased. And although it looked good, we couldn't get a striper to bite. We are geared up and ready to catch stripers by whatever means possible. Hopefully it will turn on tomorrow.
Nov 1st, 2014
The Gambler's final canyon trip of the season was good. Not a big number of tunas but we did get some longfin and yellowfin in the 30 to 60lb range. The cool part was the variety. Besides the tuna, we had a good catch of mostly big mahi. The squids were thick throughout the night and easy to catch. We had 4 swords on during the night. A few blue sharks cruised into the slick in the dark. During the day, we hooked into a good number of golden and blueline tilefish. We then hovered over a deep water wreck for a decent shot of pollock. Lastly,  fished some structure where the guys caught some jacks. I thought the variety made the trip. Everyone went home with fillets. That, to me, is canyon fishing.
Today was supposed to be our first striper trip but we were blown out by the weather.
We'll shape - up tomorrow. It's supposed to be a lot of wind, but NW. So we'll see.
Oct 27, 2014
The Gambler came back from a good canyon trip on Saturday, bagging a good bunch of 40 to 50 lb longfin, a few 60+ yellowfin and a nice Mako Shark. One more trip slated to go on Weds, a 36 hour trip, and the weather looks good. I am excited about the trip.
Our Striper trips will start on Nov 1st, fishing daily, 7:30 AM till 2:30 PM. Fare for our striper trips is $60; senior fare is $55 and child fare is $35. We will start with jigging and casting lures but we'll be ready to get stripers in the boat by whatever method we need to use.
Oct 22, 2014
We have had to cancel quite a few trips due to the weather lately which, unfortunately, is the norm for this time of year. A little rough is okay but we don't want the trip to be an uncomfortable or unsafe experience. Our last two trips went Friday/Sat and Monday/Tues. The seas were bumpy but definitely fishable. The tuna fishing was slow on both, but mahi and tilefish helped put fillets in the cooler. Yesterday we tangled into some large swordfish. One, very big, 300 to 400 lbs broke off after an hour fight and 10 times around the boat. Another, 250lber was landed around day light. The yellowfin and longfin were bigger, 60 to 70 lbers --just not enough of them. We did manage to catch quite a few bigger mahi yesterday, which really helped the trip --the guys had a lot of fun and everyone had a nice bag of fillets to bring home. Fernando, who caught the big swordfish was good enough to share his catch with anyone on board who wanted to take some steaks home. We canceled the trip that was supposed to leave this morning due to rough sea conditions. Our next trips are scheduled to leave this weekend --hopefully the weather will cooperate. We are possibly looking to put another trip together for November 4th.
Oct 9th, 2014
The Gambler canyon trip that was chartered by Grumpy's tackle shop of Seaside Mon/Tuesday was a great trip with a good catch of longfin and yellowfin tuna. It was a sporty ride off but, thankfully, Ponytail Mike said to keep plowing through it. Had to take it a little easy so we got onto the west wall around 1:30.
As I was coming back on the anchor, I saw tuna marks on the recorder. The temp jumped to 72.2F (66F inshore). Lots of Sargasso weed. We had our first fish on-and-off within 20 minutes of set.
During the dark we picked slowly at longfin and yellowfins. I was steadily reading fish under the boat anywhere from 50 to 250 feet. Just before day-break, the bite broke lose. Slamming 30 to 50lb longfin and 50 to 80lb yellowfin on jigs and bait. Around 6:30 we hooked into a 150lb-ish blue marlin that parted the line near the boat.
After 7AM, we hooked into a fish about every 15 minutes. The marks never left my screen.
Everyone did a great job and it was a fun group of guys and gals --true fishermen. Most everyone landed a couple tuna, a couple guys had 4 and two guys struck-out (nothing they did wrong, just happens).
The Gambler is off on a 48 hour canyon safari right now, won't be back till Friday morning. We'll be headed off again on Fri/Sat and Sat/Sun. Still room on some of our weekday trips coming up --don't wait too long. Lots of good water out there and I think we will catch tunas at least till the end of the month.
Oct 3rd, 2014
The Gambler was offshore with the NJfishing.com community on Weds/Thursday. The seas were forecast 5 to 9 feet, which is not-nice weather but fishable for a boat like the Gambler. The ride off was okay and we made good time.
One party boat returning from a trip gave us some good intel and the area they fished, so we headed directly to that spot and threw anchor around 2PM. We had a nice break in surface temp that went 71F, 72F and finally found the 73.3F that we were looking for.
We did not see too much until the sun went down and we landed a nice longfin on butterfish bait by 7:30. We then fought a couple of sharks and a sword and caught another longfin around 9PM.
I was steadily reading tuna and bait marks on my finder, anywhere from 50 to 250 ft below. Myself, the crew and some of our customers tried hard to jig up some fish but had no success. I thought if we could hang in there, the tunas would eventually turn on. But by midnight, the only thing that turned on was the wind and rain.
When we had left the dock, the seas were forecast 5 to 9 feet but they were more like 8 to 12s. By 1AM there were only 2 guys left fishing. So I made the call and we came home (turning it into a 24 hour trip, I gave the guys and gal vouchers towards another trip). Shame but  that's just the way it goes sometimes. Our next trip is scheduled for tonight and it sounds a bit lumpy again but it's a go.
Our weekends are pretty well filled up but still have some spots open on weekdays.
Sept 30, 2014
Too bad that we had to cancel our first 2 trips due to bad weather conditions. Finally we fished the Hudson on Fri/Sat. Weather was great and we hooked into and lost a 150lb swordfish 20 mins into the first stop. During the night, we landed a nice mahi and fought a huge swordfish that went around the boat about 15 times in the space of 3 hours (I think that sword hurt our tuna bite). Just around day break we had a couple longfin on jig and bait. Trolled for a while and caught another longfin and some mahi. Set it on another drift and caught some tilefish and a skip jack. Worked the weed lines towards home for some more mahi and assorted species of jacks. Looking forward to our next canyon trip, scheduled to go tomorrow AM but I'll have to keep an eye on the weather.
 Our inshore exotics yesterday had a promising start. Got into some mahi --4 to 10lbs. Looked good for the 1st 3 hours but slowed up. Then anchored over an offshore lump that had some life on it  but only caught one skip jack. We have another one of these trips leaving on the 13th but all spots on it are booked.
Sept 25, 2014
Our final fluke trip of the season was a good time with our regulars. We landed a fair amount of keepers and shorts off in the deep. Beautiful weather and good company.
Unfortunately, our first 2 canyon trips have been cancelled due to this Nor'easter.
Hopefully the wind will settle down enough for us to make our Saturday offshore trip. The crew is anxious to get out there gaff some tunas.
Sept 13, 2014
The Nor-easter last Monday had slowed fishing down but it was starting to improve as of yesterday morning. Kinda lumpy this morning again but we did manage to catch some short fluke along with some keepers up to 4lbs. The fluke were holding a little deeper and in the rockage today.
The Gambler was out with a small crew for her night wreck trip last night and they caught a fair amount of mixed sized ling and a few big flounder. There were also a few squid landed for the guys that tried to catch them. Thursday and Friday coming up will be our last shot at Nite Wreckin' --so get your fix in.
Chances are that we will not make it off for our blue fish trip tonight due to the weather conditions.
There are still 5 spots left for our 48 hour canyon tuna marathon, leaving 9/24 at 11AM. As of a few days ago the bite in the canyons was hot. The beauty of our 48 hour trip is that you have so much time to fish. And if we load up or limit-out on yellowfin, we can target longfin, mahi, tilefish or hit some wrecks --or all the above. The Gambler is the boat to do a trip like this --she is so roomy and wide, fast and comfortable-- and staffed by an expert crew. Weekends are going fast but there are still spots on our 36 and 48 hour canyon trips.
Sept 1, 2014
The fluke fishing has been good most trips, all week. Some nice sized keepers up to 6+ lbs coming in. Yesterday was slower because of a strong southerly breeze but we still managed a catch of fluke with a few sea bass and one-pound chub mackerel in the mix. Very good fluking again this morning with a higher percentage of keepers. Weather looks mostly nice all week and the crowds have thinned out --so it is a great chance to join us for some fun fishing and taking home the fillets.
Our night wreck trip on Friday was slow on the ling but terrific for the squid fishing. The guys that tried for squid landed 40 or 50! Nice sized squids, too. I will try to stock some squid jigs on the boat for this Thursday and Friday nights. But if you want to pick some up, visit your tackle shop and ask for 3 inch or smaller squid jigs, un-weighted. Best method: with a smaller spin set-up, cast squid jig just beyond the lights and gently jig and retrieve the lure back to the boat. When the squid approach (at times, a whole school of them) jerk it away; this will trigger an attack response. The cool thing about this kind of squid fishing is that you can actually watch the whole pursuit. Watch out for the ink spray --can be messy!
Night blue fishing this past Saturday began slowly but came on heavy, with big blues chomping cut butterfish in a frenzy. Our next night blue trip will be going this Saturday night --should be excellent.
These trips will all wind-up by the 3rd week of Sept, when the Gambler will start her offshore canyon schedule. So get your fishing fix in soon.
Aug 24, 2014
Despite bumpy seas, the fluking was good both yesterday and today. Better percentage of nice keepers coming in, up to 6.5 lbs. Good action on smaller fluke with a few 1 lb blues too.
Our Nite Wreckin' trip on Friday was slow. Caught some but it could have been a lot better. That can easily change again by Thursday.
Last night's blue fishing was very good on big choppers up to 15lbs. Going again on Saturday night.
We have some spots that just opened up on our 1st 48 hour canyon tuna trip, leaving September 27th. If interested, please call 732-295-7569
Aug 19, 2014
The fluke fishing this week has been up and down. Decent fishing with keepers on both trips Thursday and Friday and Saturday morning. Slowed up on Sat PM thru Sunday morn --but good again Sunday PM. Been some nice sized fluke. We had several fluke over 6lbs on Saturday and Sunday and the biggest was over 7lbs. Not too many sea bass lately. Again --much of it has to do with drifting conditions.
On Thursday the 21st --PM TRIP ONLY-- all tickets have been sold.
Our Wreckin' trips Thurs and Fri nights were on the slow side. Some nice sized ones came in but the numbers weren't great. High hook had about a dozen. Couple cod and flounder taken too. We will try fishing a different area for the bottom creatures this week.
Night blue fishing was good this Saturday on 8 to 10 lbers. The long range forecast for this week looks good.
Aug 11, 2014
Fluking was on the slow side for us this weekend. Caught some fish everywhere we tried but it was on the dull side. This morning we had a large gang on board and the fishing was fairly decent. Pool winners have been in the 4 to 5lb range. Some sea bass in the mix most trips. Also being caught on the fluke trips: ling, sea bass, sand sharks, sea robins, skates, trigger fish, small blues, star gazers and sun dials.
Our night "Wreckin' " trip this week was slow. Some ling were caught but it was not too hot. I think the problem was that big blues were roaming the wrecks that we fished and chased the bottom critters into their hiding places. So this week we will try some different areas where the blues should not be.
The blue fishing Saturday night was good, with chompers up to 12lbs. The fish were taking butter fish chunks. That blue-fishing should now be good for the rest of the season.
Aug 6, 2014
The fluke are biting when we get the right drift. This morning started well, with a nice .7knt drift. Covered good area with that drift and we caught some nice keepers and bass along with some short action and a few small blues. After the second long drift, the breeze started to crap-out and the fishing slowed down. Typically, whenever we drift between 0.5 and 1 knot, we can catch the fish --they are there.
Our Wreckin' Trips this past Thursday and Friday night were good. High hook had 25 big ling. There were some keeper cod and big winter flounder caught again as well as some squid for the guys who tried for them. The trick to catching the ling and flounder is to use a smaller hook, like a 2/0, with a small piece of bait. Make sure the hook and leader hang well below the sinker --and when in doubt, ask the crew to check your rig.  ***Please don't forget: -this-Thursday night's trip is sold out but Friday night's wreck trip is good to go.***
Night bluefishing should be good this coming Saturday. Plenty of blues around and bigger fish are beginning to filter in from offshore.
July 29, 2014
The last few days we found plenty of short action in closer to shore but not many keepers. Off the beach we found less bites but bigger fluke --and a new school of bigger sea bass that has moved in. The big fluke are there but they are a little trickier to catch.
The Nite Wreckin' trip this past Thursday was good on bigger ling, some keeper cod (up to 6lbs) a couple snow-shoe flounder and a few squids. Very nice night with plenty of action. Starting this Friday, we've added Friday nights to our Wreckin' Trips.
The night blue trip on Saturday was good on smaller, 1 to 2 lb blues.
July 15, 2014
The last 3 days, with strong south wind and thunderstorms passing through, the fluke fishing has been tough. Catching a few keepers and some shorts along with a few sea bass and ling but the weather conditions have slowed our catch considerably. On the upside, the wind is forecast to turn to the NW tomorrow and continue thru Thursday, which should turn conditions around nicely.
Our last Nite Wreckin' trip was a lot of fun, with big ling, a few keeper cod, a decent amount of squid and some little bluefish mixed in the catch. A good trip overall with fish steadily coming over the rails.
Night bluefishing, over the weekend,  was good too, catching small blue fish and large chub mackerel. Both species are very good eating but you should keep them on ice, in a cooler. Marinate these fillets over night in your favorite marinade (I like to employ whatever is half used on the fridge door, mixing Italian dressing with mustard, teriyaki sauce, barbecue sauce --whatever you think might work well together) place in a baking dish (skin side down but skin off) and bake at 350F for about 15 minutes --do not over cook; as soon as you can flake the fillets with a fork, it should be done. So good.
July 8, 2014
The action for fluke has been holding the same: Hot, cold and in-between. Plenty of fluke around --getting them to bite consistently is another thing. Pool winners the last few trips have been about 4lbs. Sea bass and ling are helping to put some fillets in the coolers, too. On Saturday afternoon, we had two sharpies with their limit of keeper fluke; one of the guys was jigging a spro/gulp set-up, the other was fishing a traditional fluke rig and just using squid/spearing combo for bait.
We did not make it out for our Nite Wreckin' trip on Thursday due to poor weather.
Our night bluefish trips are still tough --hopefully that will change soon. We've seen them move in overnight.
June 24, 2014
As is typical for this time of year, the fluke fishing has been hot and cold. Catching some bigger fish now and some of the trips are constant action on shorts, keepers, sand sharks and sea robins. Also in the mix: some big sea bass and ling.

Pool winners most trips have been 4 or 5lbs, but on Saturday, Ray Cha landed a 9.2 lber.

The Nite Wreckin trip last Thursday was okay for some and slow for others. Mike M. Was high hook with 15 big ling. Lack of flounder that last trip, but they are still there and some of them are very big, like 4 or 5 lbs+
June 18, 2014
Our fluke fishing has had some good moments. Decent fishing but not consistent. High hook this morning had 3 keepers and 8 or 10 shorts. Some trips we're also seeing sea bass and ling, which helps to put some meat in the coolers.
Tomorrow night we'll be making our Nite Wreckin' Trip for cod, ling and flounder. Should be a good time.
June 6, 2014
Our morning fluke trip was ok, with shorts and keepers coming over the rails. Matt Brown had 2 keepers and about 10 shorts. Pool winning fluke was 5lbs.


Last night's wreck trip was light on passengers. The fishing was not fast, but interesting on variety. Caught cod, ling, and mixed sized flounder. Just a few squid were caught but we should see the squid get thicker by the end of this month.

High hook had 12 ling, a cod and 2 keeper flounder. Next trip is this coming Thursday.

If you want to catch flounder on these trips, try larger flounder-style hooks that hang below the sinker and use small pieces of clam.

To catch cod, tie a hook about 12inches above the sinker. Do not glob big pieces of clam on the hook --you will only attract dogfish. Half a clam bait works fine.
June 2nd 2014
The fluke fishing was very slow for us on Saturday but improved by Sunday. Both trips on Sunday produced short action along with some keepers. Today, a 5 and a 6lber were taken. The fish are there --just gotta have the right conditions.

On our night striper trips, we haven't had big numbers of bass. But the fish we do catch are lunkers --mostly over 30lbs. And not always caught on live baits, either. Two big fish were caught Saturday night on 4oz red and green tailed AVAs. We're going to be fishing just Friday and Saturday nights now for stripers.

We will begin our Nite Wreckin' trips every Thursday, starting this week --targeting ling, cod, squid, flounder (which is now open) and Pollock
May 23, 2014
Our first fluke trip of the season was nice. Not too many keepers, but we had some short fish action. Also caught a couple sea bass, whiting, sand sharks, sea robins and skates.
The weather looks good for the next few days.
Our stripers trips will go every Thursday, Friday and Saturday nights, from 7:30 till 12:30. We are geared-up with everything we need to put big stripers in the boat. We did not fish last night due to poor weather but I should have a report up tomorrow for tonight's trip.
May 18, 2014
Our stripers trips have been more big bluefish than stripers lately. We did catch a couple big stripers yesterday, and a couple more so far today on live bait.
This Thursday, Friday and Saturday night, the Gambler will fish for stripers 7:30 till 12:30
And on opening day, Friday the 23rd, we will switch gear to 1/2 day fluke and sea bass fishing
May 12th, 2014
Things are heating up. Just a few degrees in water temp and the bait-fish came in and then the bass and blues.

Saturday night we headed out with a group of 25 fishermen and we had run-offs on live bunker and caught some big stripers on jigs. The 15 to 25lbers were hooked on spoons and AVAs with white or green tails.

Mother's day started out with some big stripers and blues in the mix and then turned in mostly bluefish. The stripers have been all keepers. The blues have been running 4 to 12lbs.

The Gambler is turning onto night stripers starting this week, fishing every Thursday, Friday and Saturday night, 7:30 till 12:30. We'll be ready to fish lures bait or bunker to put big stripers in the boat.

During the day, we will fish for stripers daily, 7AM till 2PM (except Weds the 21st) until the 23rd when we will start our 1/2 day fluke trips.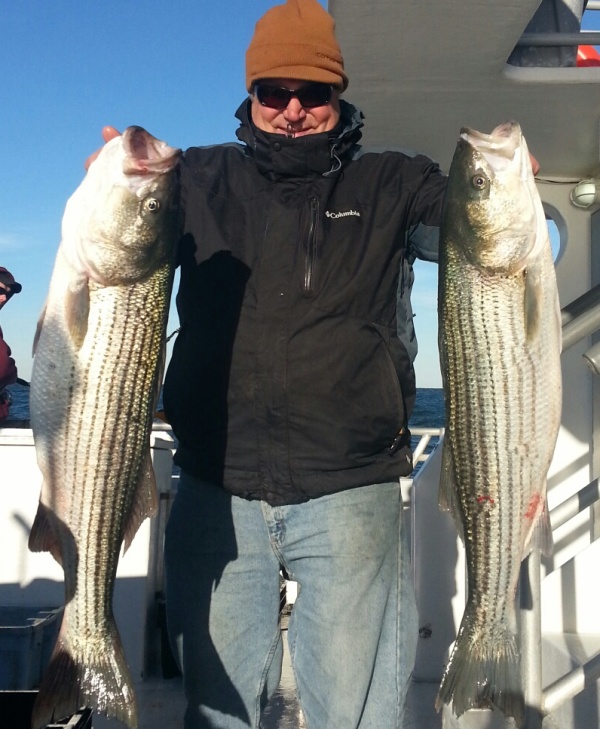 May 8th
The striped bass fishing was not good these past few trips thru Tuesday. Finally beginning to see baitfish on our fish finders, so hopefully the big bass will not be far behind.
May 3rd, 2014
Nice day for our first day of striper fishing. Great weather. The fishing was kind of slow for us. We caught a few stripers but only a couple keepers. Attempted to find readings to jig on while we were riding North but just did not see enough top stop on. Got to the clamming grounds and that's where we caught our bass.
Water is still cold but should warm up soon with this coming west wind and 70 degree days.
We'll be working at it everyday --ready for any scenario to put stripers in the boat.
April 21 2014
Our tilefish trip on Saturday was decent. It took a few drifts to dial in the right depth and the current was strong but we but everyone on board had at least a couple tile fish and high hook wound up with 6. The fish ranged from small up to about 15lbs. Weather was great. Our next trip is scheduled for this coming Saturday --still plenty of room.
April 18 2014
Just 10 guys came out with us to go blackfishing today.

The weather turned out ok. Just a little roll left over.

Fished just 3 wrecks --all had bites. Wound up with a fair amount of keeper taug along with some shorts and one keeper cod and a few short cod.

Since there were just a few guys, I fished myself for part of the time and kept 4 keepers up to 6lbs had 3 others and a few shorts. I had bites every time I dropped down. I used clams today but others had fish on green crabs.

Looking ahead at the weather, we plan to fish for taugs this coming Monday and Tuesday, Wednesday and Friday from 6:30 till 3:30.

Our offshore cod trip is set for Thursday the 24th.
Jan 1, 2014
I'd like to thank all our customers for a good and prosperous 2013. God has blessed our passengers, crew and captains with safe trips to bountiful fishing grounds.
As soon as the wind stops blowing, the Gambler will make trips for mackerel, leaving at 7:30 and returning by 3ish, thru January. Fare is $60. We plan to fish everyday, but please watch the weather. Any wind forecast over 25knots --we most likely will not fish.
Dec 16, 2013
The Gambler is going to give striped bass fishing one more shot this Saturday and Sunday, the 21st and 22nd. I have some areas I'd like to check and hopefully we will find some hungry bass. In the mean time, I will keep my ears open, talking to the blackfish boats that are out there to see if they spot any working bird life. I believe the forecast is decent for the weekend and we will have a couple back-up plans if the bass are not hitting.
Dec 11, 2013
The last couple trips we made for stripers were slow and I guess the weather kept the fishermen home today, only two diehards showed up. But we don't want to give up just yet. Next few days don't look like the best weather but if we get at least 10 guys or so we'll go on a hunting expedition.
Wear warm clothes, the galley's heated and Tommy's got hot food in the galley.
Like to get a good catch together --let's keep the ball rolling!
Dec 6, 2013
Good striped bass fishing yesterday on both keeper and throwback sized fish. The fish had moved back inshore yesterday --a very good sign-- feeding on sandeels. A-47s with tail worked good. Stripers ranged up to 15lbs. No bluefish in the mix this time.
Did not get out today --I guess rain kept the fishermen home. But we will keep it going as long as the fish are around.
Dec 2, 2013
Catching plenty of striped bass now, just not too many keepers. Some blues have remerged too. I think the bigger bass are just a little too far offshore but they could come close enough at any time. 
Nov 27, 2013
Up until yesterday, the striped bass fishing was spotty. Not much trouble finding the fish but frustrated that they would not chase our lures and jigs.
Yesterday's fishing was very good, though, on keepers up to 20lbs and some short fish in the mix as well. Just one bluefish caught this trip. A-47s with a green tailed seemed to work best.
No fishing today, because the weather was poor.
Tomorrow, Thanksgiving Day, we will run a special 1/2 day trip: 7:30 till 12:30, with a reduced fare rate.
Gambler Gift Certificates are available by calling 732-295-7569. If you don't get a pick-up, leave your name and number and you will be called back asap.
Nov 20, 2013
Good striper fishing today on shorts and keepers up to 15lbs. Some 5 to 8lb bluefish in the mix too. At times, they were tricky to catch: saw a lot of marks on the fish finder and on the surface but they didn't always want our lures. Type of lure didn't matter too much but you needed to retrieve fast enough so that the lure had proper action to entice a bite. In the end, everyone went home with a couple of keeper stripers. With the ocean temp hovering around 50F, the fish should stick around for a while.
Nov 15, 2013
No problem finding the fish today; getting them to bite was a different matter. Saw fish rolling and finning the surface and saw good marks on the fish finder but they were finicky. We did catch some nice big bass --mostly on A-47s-- but it was nothing like yesterday. Some big bluefish were caught too. I don't really know what turns them off the feed but that's fishing. The good news is that they are in abundance up and down the shore and the striped bass can turn back-on just as quickly.
 Nov 14, 2013
 Excellent action on big stripers today. Fishing was great all day. 90% keepers and we had a few choppers too. Fish were feeding on schools of sand eels and butter fish. AVA s and spoons worked equally well. By 10AM it was catch and release fishing. Jim M of PPB seemed to have a fish on every cast, using a plain A-67

From what I heard on the VHF, fishing was good South and North of us as well. Miles of bass around. Bluefish are thinning out.

Tommy has some excellent chicken soup in the galley, along with his usual menu.

Weather looks good. Come on out.
Nov 8th, 2013
Good action on big stripers and blues today. Fish were working near the surface, feeding on rain fish, sandeels, squid and snapper-blues. Blues were 12 to 16+ lbs and stripers were 12 to 20lbs. It's good and just getting started.
 Nov 6th 2013
Plenty of action on big bluefish today along with a few 10 to 15lb stripers. Fish are feeding on sand-eels --so green tailed A-47s are the trick. A little rain in the forecast for tomorrow but looks okay otherwise.
 Nov 2nd, 2013
The Gambler headed South today, down towards Island Beach State Pk. Saw birds working the surface and bait fish on the machine but did not see very many stripers or blues on the finder. Gave it some time and effort but it did not pan out. Worked our way back to the North where we heard a report of some blues being caught. At times, I read big piles of blues and bass on the finder --and sometimes on the surface-- apparently chasing rain fish. But they did not seem very interested in our lures. We did manage to catch a few big 12lb blues and a couple keeper bass.
On Monday, We will be offshore for one last canyon run, but after that, the Gambler will be working hard to put stripers in the boat --daily 7:30 to 2:30.
Oct 28th, 2013
We had a good canyon trip again on our Fri-Sat run. Did not have much action until about 4AM when we started to pick a few 25 to 35lb longfin. Broke loose around 5:30AM. Mostly longfin up to 60lbs with a few Yellowfin 40 to 50lbs. Greg T caught 3 longfin and a nice yellow on bait. Charlie C landed 4 longfin. I think everyone on board caught at least one tuna and most had at least 2. Most were picking up on bait but a few were caught on jigs too.
Unfortunately we had to cancel Sat-Sun trip due to rough seas.
We have one more trip scheduled to go out on Sunday night, the 3rd. We'll see what kind of interest we can generate and maybe add another weekday trip --The fish are out there.
We are looking to see if we can get out for some striper and blue action starting tomorrow, Tuesday the 29th. Trips will  leave 7:30 and return by 2:30 daily (except for Monday the 4th).
---
Oct 23, 2013
Good tuna action at the canyon again yesterday. Mostly 25 to 50lb longfin with a few bigger yellowfin. The fish finder was lit-up should've caught more than we did for all the fish that were hanging under the boat, but not bad overall. Just a couple taken on jigs. The rest were caught on squid, butters or sardines.

Still plenty of room on our trip leaving this Friday at 3PM. Call the office if you'd like to go.
__________________
Oct 18, 2013
Returned to the dock last night with a very good catch of tuna. We caught big numbers of 25 to 50lb longfin tuna and a few yellowfin tuna up to 125lbs, along with a bigeye tuna that we estimated at over 250lbs. Fish were caught both in the dark and daylight hours and they took both bait and jigs. Also, landed about a dozen mahi that came through our slick. We have room on our Monday trip coming up and other dates with availability through the rest of this month. We have everything you need on board except a pillow and sleeping bag. For latest availability and to reserve a spot, call 732-295-7569.
Oct 16, 2013
Heading offshore tonight after a long week at the dock due to bad weather. Looking forward to getting out there and hope to bring home a good catch of tuna. Going out again on Friday night but hopefully I'll have a chance to put up a report about Thursday's trip before we go. Weather report and Satellite charts look good.
We'll start stripers on Nov 1st.
Oct 10, 2013
It was a nice run of decent weather, Sept through the first week of October --but I guess we are paying for it now. I have already cancelled Monday and Friday's offshore trips due to this Nor'easter.
We have been catching fish out in the canyons every trip but not getting the numbers we hoped to have. Seems like there were a few nights where the tunas really bit good,  but we happened to be at the dock those nights.
We have encountered swordfish on nearly every trip this season: one night we caught two and on our last trip we boated a 250lber. The yellowfin that we've caught are bigger, 60 to 80lb class and the longfin have been 30 to 40lbers. Some of our trips we have caught up-wards of 100 mahi (5 to 25lbs) and on one trip we took 40 or 50 tile fish (5 to 20lbs). Our next offshore trip is scheduled for this Sunday: a 48-hour marathon... hopefully the weather will calm by then.
9/25/13
It's been tough getting time in the office lately but here is my synopsis of our first canyon trip of the season:

I was excited to hear the radio reports boats returning from the canyon as we were on our way off on the 20th. Most had a decent catch of bigger yellowfin on the chunk that night.

As the Gambler approached the grounds, we saw a tremendous amount of life: Big fin whales, pilot whales and several different species of porpoises put on an awesome show. We started off on a troll, alternating a spread of 11 rods in half-hour shifts. But there were no knock-downs and finally gave it up around dusk.

As I approached the area that had produced the night before, I found a pinnacle of reasons to set-up: A 2 degree temp break, large schools of bait readings and an incredible display of mammal life. We set up a chunking drift in 750ft by 7PM. By midnight we had no bites and the breeze began to come up, so we anchored over a good looking area. At 3AM we had a flurry --out of 9 rods working, seven went off (guys that were taking a rest missed it) 3 big yellows were landed. Throughout the dark, the radio was very quiet. Unfortunately, no more bites. We did some mahi fishing and had some success with those in the 5 to 10lb range. We began to troll by 9AM. We trolled the entire east wall, no knock downs and heard very little taken the whole time we trolled.

I then held the Gambler over a deep water wreck for two passes but we were disappointed with that too.

Anchored up on the flats that afternoon where I had seen fish swirls and bait readings on the way out the previous day. Guys tossed jigs and baits. After a little while, we hooked into, fought and released a 90lb blue marlin that put on a good show and also released a small mako.

The seas were beginning to build and before dark, we made our way off to the west corner of the canyon wall. Party boats DM and SD anchored within 2 miles of us while another two party boats settled on the east wall. Strangely, nothing happened on either side during the night.

Just before day light, Pennsey guy Chuck hooked into a large sword that we fought for almost 2 hours but the fish was lost.

Just an off couple of days? I hope so. Looking forward to this next trip, leaving tomorrow. Still room on up-coming trips.
__________________
September 9, 2013
Fluke fishing has been good most trips lately. Some bigger fish, with more than a few over 7lbs this past week. Some big, heartbreaker sea bass tossed back too. Good weather has helped a lot. Looking forward to the offshore canyon trips but want to enjoy this fluke fishing for as long as we can.
We did not make our Nite Wreckin trip this week, so no report there. But the blue-fishing on Friday and Saturday nights were good on 7 to 10lb choppers.
Aug 20, 2013
Fluke fishing has been hot and cold these last few days. Some big fluke have come over the rails. Several over 8lbs recently.
Our Nite Wreckin' trip was okay for some guys and slow for others. Ling weighed 1 to 3 lbs. A 9lb cod was caught by Mike Malpas.
The night bluefish action was okay on Friday and Saturday on mostly smaller, 2 to 3 lb blues.
Aug 6, 2013
The fluking has been decent lately. Not fast action but a good percentage of bigger keepers coming over the rails. Ralph Rivera had a 8.7lber this weekend.
We did not make our Thursday night Wreckin' trip because of the weather this week.
The bluefish action was steady and plenty on Friday and Saturday nights trips. Small 1 to 2lb blues took jigs and teasers readily.
Aug 2, 2013
Most trips have been pretty good lately on nicer size fluke and sea bass. Today was off for some reason. I think I will try some different areas tomorrow. 5.5 lber won the pool this afternoon.
 July 23rd, 2013
We've had some good fluke trips lately, bigger with some big sea bass in the mix. Not every trip. As always, a lot depends on conditions.
Our Nite Wreckin Trip this past Thursday was slower. Mostly ling. High hooks were about ten fish.
July 16th, 2013
We've had good action on our fluke trips these last few days. Plenty of short fluke with a decent amount of keepers up to 6lbs mixed in. It seems the bottom water has finally warmed up enough to make the fluke active.
Our Nite Wreckin' trips have been steady catches of big ling. Not too many squids or cod lately.
Looking forward to Friday and Saturday night's bluefish trips. It seems they are finally moving in too.
July 1st, 2013
Fluke fishing these last few days has been slow. Steady, strong south winds have made the ocean water cooler... and cooler water caused the fish to get lethargic. We still catch some fluke and sea bass on every trip but it's not what it was.
No doubt, fluke are there, and when the weather straightens out some, it'll get good again.
The night bluefishing has been poor. I hope something happens soon. We will keep trying, do what we can to locate and catch them; but we will have a plan B in place: If nothing is happening, Capt Mike will skillfully anchor up over a wreck or rocks and fish for ling, sea bass, cod, etc.
We are switching our Nite Wreckin' trip from Thursday to Friday night this week. We are catching some extra big ling on those trips --no sign of squid yet but we'll keep looking.
June 25, 2013
Good action these last few days on the half day trips. Catching fluke, sea bass, sea robins, sand sharks, sundials, four-spot flounder
and an occasional ling. We go through about ten short fluke to get a keeper, but the sea bass are helping to fill the buckets.
On our first "Nite Wreckin" trip this past Thursday, we caught some big ling, a keeper cod, a keeper Pollock and a few sea bass. We had to shift the boat position over the wrecks often to keep the bite going but the action was okay. No amount of squid yet but I think they should show up soon.
Our night bluefish trips on Fridays and Saturdays has been poor so far. Hopefully, that will change soon.
June, 18th, 2013
Fluke action has been off and on this past week. Catching some nice sea bass on our fluke drifts too. Biggest fluke of the month so far is an 8.1lber caught on a regular rig with a squid strip/spearing combo.
The night striper fishing has been tough so we are aiming for big blues on Friday and Sat nights for the rest of the summer. Capt Mike had the Gambler out this past Saturday night and they caught some big blues while fishing Monster's Ledge, about 23 miles offshore. The fishing that night was good in waves but the fish scattered when big sharks crept into the chum slick.
This Thursday night, the Gambler will kick-off her Night Wreckin' Trip; fishing for ling, cod, squid, sea bass and whatever else might lurk on the wrecks. We will make that Wreckin' trip every Thursday night for the rest of the summer. It's a good trip --good way to put fillets in the freezer. And now should be prime time for squid, too.
The night trips leave 7:30 and return by 1AM
 May, 29th, 2013
We had some good fluke fishing, especially on Sunday and Monday. Need the right kind of drift to cover some area, but when we did the fluke bite was on. Many of our customers had two or three keepers and high hooks were four. An eleven year old with a rental pole caught 4 keepers on Monday morning. We are also catching a few keeper sea bass. This morning the fishing was slower but I think it was just due to a slow wind drift. However, Pat Fraley was out with us and landed 3 keepers up to 3lbs by casting a bucktail and working it back to the boat. Pool winners so far have been 5lb class.
 Weather looks good for the next few days, so if you can get out of work come on out.
This Thursday, Friday and Saturday nights we'll head out for big stripers, working the bunker schools. Also a chance to catch some blues while looking for the bass. We have everything that you'll need right on board.
May 23rd, 2013
We had some big, 20 to 30lb striped bass yesterday, all taken on live bunkers baits that we snagged for our customers. Didn't see any blues this time. Starting tomorrow night, we will switch our big striped bass trips to twilight time, 7:30 PM till 12:30. It's a great time to hook up on jumbo bass: just as the sun goes down and the first few hours into dark. We will make these trips on Thurs, Fri and Sat nights.
Our first fluke trips of the season will start this Saturday. Looks like some rain in the morning but should be okay. The wind is calling 20 to 25knots but it's an onshore breeze and it should be fine fishing in close to the beach. Sunday and Memorial day should be decent fishing weather.
May 20th, 2013
Very slow fishing on Saturday but Sunday showed a good sign of improvement on big bass.
Caught a decent amount of good-eating-size blues on Friday. Saturday was slower. But big bass 20+ lbs were caught on the Gambler using spoons and snagged bunkers. So it looks like the pendulum should now swing back the other way and the bite should only continue to get better.
Starting Memorial Day Saturday, the Gambler will switch over to 1/2 fluke and sea bass but we will continue to fish for big striped bass on Thursday, Friday and Saturday nights.
May 12th, 2013
Tough fishing the last couple trips. The stripers have done their disappearing act. Saw and caught a good amount of bunker on the surface this morning and used them for bait. Others cast croc spoons and Ava jigs. But I saw very little on the fish finder and we didn't catch anything until we anchored and pitched clam baits. Caught a couple keepers and a few shorts and a few small blues. Looked hard on our way home and made a couple stops but didn't catch any more. But, we know how striped bass are --it could be a frenzy tomorrow-- just can't tell. One thing I do know is that they will turn on again, sooner or later.
May 6th, 2013
Striper fishing was slower for us the last couple days. The big bass are still there, just more scattered and finicky.
We are ready for jigging or clamming --whatever we need to do to put fish in the boat.
May 2nd, 2013
Very good action on big stripers today.
Slow to start, saw fish on the machine like yesterday. But around 10:30 they seemed to get hungry and we held one or two and up to 4 fish on for over an hour.
Swimming shads and crocs spoons seemed to work best.
Very little bird action.
The bass had big bunkers in their bellies. I believe that everyone caught their limit today. Great day on the water.
MAY 1ST, 2013
Ran to the North again today  and found bass readings around the rocks. We hooked up quickly and landed two big stripers on Croc spoons. For the rest of the morning, we read plenty of fish on the fish-finder but did not catch as well as we saw them. Around noon we anchored up on the clam beds and caught a few more keepers and some short fish on clam chunks.  On the way home I could not resist giving the jigging grounds another shot and we caught a few more. It was not bad fishing for a small crowd but the fish were definitely finicky --you had to work for them. Today was the first day that we found bunker in the bass's stomachs.
Nice weather forecast for the next couple days.
Don't forget --we will not be striper fishing this Saturday, the 4th.
APRIL 30TH, 2013
Good fishing this weekend. Caught stripers on both clams and while jigging. Mixed fish, anywhere from short 20inch to 15lbers.

The weather looks good for this week.

This Saturday, May 4th, is the only day we will not be striped bass fishing. The Gambler is going offshore for golden tilefish that day, weather permitting.
APRIL 6, 2013
Ran to the south, looking for striped bass today but saw very little on the finder and the ocean temp is still too cool. Tried several drifts working down to Seaside --no bites. Anchored-up in tight to the beach and chummed/baited with clams but nothing happened. Made radio contact with boats south and north of us but their findings were the same. The past couple years we were catching good by this time but this spring  has been cooler.
By 11AM, I headed the Gambler off to a couple of wrecks, anchored up and dropped clam and crab baits down. Caught some keeper cod and short taugs. There has been a few big ling on these drops too. Kind of slow but I liked the sign of blackfish that we saw.
So this is the daily plan: Start out the mornings in search for stripers, ready to jig or clam. If the writing is on the wall (no stripers to be found) we will head off for taug, cod, ling. We will have clams and crabs on board for bait. This will be our plan B. If we catch any keeper bass, we will stick to plan-A.   Weather permitting, we plan to fish every day.
Still room on our golden tilefish trip leaving this Friday morning. The crew and I can't wait for that trip! If you can get away for this Friday's tilefish trip call 732-295-7569 and save a spot.
APRIL 2, 2013
The Gambler, crew and a few passengers went striper hunting this weekend but the water was just too cool and we had no striper bites. We tried jigging and clamming in a number of different areas but there was very little life inshore. Later in the day on Saturday, we anchored up on a wreck with clam baits and caught a few ling and a couple cod. I believe that all we need is a few more 60+ degree days and things will turn around. In the mean time, we will be shaping-up everyday to go in search and we will have a back-up plan if the bass don't bite.
Also, the Gambler is scheduled for two offshore golden tilefish trips, leaving Friday morning, April 12th at 1AM and returning Friday afternoon by 8PM     and       Saturday morning May 4th, leaving at 1AM and returning Saturday afternoon by 8PM. We run a couple of these tilefish trips every spring and the trips have produced well --with high hooks usually around 12 fish and sizes between 5 and 30lbs. It is a good, different, exciting trip. The tilefish trip is limited to 25 passengers or less and costs $275.00. Reservation is required. Call 732-295-7569 to save a spot.
March 10, 2013
The Gambler is not fishing right now but we are gearing-up, getting ready for the fishing season. The plan is to begin fishing for striped bass, starting Fri, March 29th.
This weekend, Starting Friday the 15th, I will be captaining a booth at the Somerset Saltwater Fishing Expo. At the expo, we will have the dates for special trips and info on our regular season trips. 
I recently wrote an article for Big Game Fishing Journal on our 48 hour canyon tuna trips and I will have copies of that magazine with us.
 It's a very good show and always a good way to catch up with old friends and new. Try to make it there if you can.
Jan 29
The weather has pretty much put an end to our winter fishing season. The Gambler will not be fishing for the month of February We will start back up probably by the last weekend in March for Striped bass (and very much looking forward to that).
Come and see us at the Somerset Saltwater Fishing Expo, March 15, 16 and 17. We will have a booth there. Be the first to see our canyon schedule and tilefish trips schedule.
Jan 9
Ran off about 40 miles to start this morning. Settled on a wreck in 140ft. Slow fishing, just a handful of sea bass and a few ling.

Next Spot was better with a few keeper cod, a pollock, a few sea bass and a few ling.

Last wreck was best, steady action on mixed sized ling along with a few cod.

Okay overall.

Running these 7 to 5 trips every day except for Fridays thru January.
Dec 19th
Tough day of striper fishing --saved at the end.

Looked way to the North checking as we went. Saw very little bird life or readings on the machine. Looked like a good shot on the fish finder at the rocks but caught only three mini bass out of it.

Zig-zagged our way back to the South and tried a few of our best areas but no luck. At the end of the day, jogged past our inlet to the South several miles.

At 2:30, stopped to try a patch of rough bottom (read very little, no bird life). Within two minutes we had four on at once. It was a fast, long drift but we caught 10 nice keepers, some big shorts and a few big blues. 2nd drift was half as good and our last drift caught only a couple. Got in after 4 but I was thankful that we got rid of pepe-le-pew. Two of the bass were up near 20lbs. And there were several limits taken.

Weather looks good for tomorrow, not-so-good for Friday, but okay again on Saturday.

With bluefish still in the mix, I would say we have some time left to catch stripers.
Dec 18
Did not get out today or yesterday. I guess the weatherman kept em home. Friday was slow fishing but Saturday was good and Sunday was even better on keepers and short striper. Most, if not all, had limits on Sunday. With the mild weather, I think this fishing should last for a while.
Starting in January, the Gambler will be striper fishing everyday except Fridays. On Fridays, the Gambler will be making offshore trips for jumbo sea bass, porgies, cod, pollock.
To sign-up for our limited, offshore sea bass trips, call 732-295-7569 and Lee-ann will get in touch with you.
Dec 7
The Gambler ran up the beach again today. Had a good hour of solid short action, some real pee-wees, with a couple of keepers. The guys were having fun but I could tell, after a while, they wanted some bigger fish. So I took a chance and looked up the beach. A few miles further, crewman Chris spotted gannets in the distance. Shortly after we got there it broke up but we did get a couple nice bass. Then we spotted life in tight to the beach and the keepers lit-up. At times, the boat was surrounded by rolling top fish. Very good action on keeper stripers, up to 25+ lbs, along with some 6lb bluefish.

Don't let a little rain keep you home --that's why you have rain gear.
Dec 6
The Gambler ventured out today with a very small group of guys. Beautiful day on the water. Did not find much until we were about 15 miles (45 Mins) North of our inlet. Then we spotted good bird life and readings on the fish finder. Good action from the start, mostly shorts with a fair amount of keepers. Stripers ranged from 12 inch pups to 12lb keepers. Fish were feeding on rainfish and A-27s, A-47s worked well on a fast retrieve.

Tony M fished a gold A-47 and took 3 keepers, 12 shorts and a blue. Since there was such a small group, I fished myself. Casting a small, 3 oz spoon, I caught 2 keepers and 6 shorts bass. It was a blast --I love fishing this time of year.

By 12:30 the bite had slowed up. Still saw fish on the finder but they had stopped feeding.

On our way back to port, I spotted birds working the surface. Just about 6 milles from our Inlet we made another drift and rallied the guys for another blast of keeper stripers, up to 15lbs. Bass boiled the water all around us. Nice finish.

Great action. Great weather. Great day. Just wish there were more aboard to enjoy it with.
__________________
Dec 3
Striped Bass fishing remains good. Short bass, keeper bass and blues fish action.
The detour to the Gambler has been removed. You can now drive the regular way on Inlet Dr,  but you still need to be careful of debris.  
Nov 28
After some searching, we found a big area of bass and blues today. Good bird life and readings in 50ft. The action was sporadic but decent. The bass were shorts and up to 15lbs. The blues weighed 5 to 12lbs.

Fish were working on rainfish, peanut bunker and sand eels. The most bait readings I've seen since the storm. Some jigs were lost on the rocky bottom.

Tom M fished a deadly-dick for a total of nine fish: 2 keepers, 5 shorts and 2 blues. Most any lure worked but, again, you had to retrieve, medium-fast speed, bottom-to-top, to get the bites. Sometimes the fish would grab just as the jig was at the boat.

I think the weather is good for the next few days.

I liked the way it looked today.

Directions note: as of this morning, you still had to go the opposite way down the one-way on Inlet Dr. Point PD is aware of the situation. Please drive slow and careful down this road
Nov 23
Poor fishing today. Nice weather with a good gang of hard core fishermen but the fish did not cooperate. Saw some bait and scattered bass readings, caught a couple shorts early but it never materialized. Did some serious searching and even jumped outside to see if we could bend the rods on some blues but nothing worked. No lack of trying for fishermen or crew --just didn't happen today.

I think the wind is finally supposed to blow hard out of the NW tomorrow so maybe that will change things for the better.

Do not let the North-West wind keep you home --most of our best bass fishing has been during strong North West breezes.

Note: To get to the Gambler, at the bottom of Broadway, you will need to go the wrong way down the one way. The other end is barricaded. The local police are aware of the situation. Please drive slowly and carefully down this road (Inlet Dr.)
Nov 20th
Very good striped bass fishing today. Lots of keeper bass up to 12lbs today. Shorts and bluefish action also. A-47s or anything that mimicked a sand eel worked best again this trip.
The weather looks good for the next few days. Fishing every day. Thanksgiving is a special 7:30 till 12:30 trip.
Current directions to the Gambler: Head down Broadway, just after the little bridge, carefully make a left and go down opposite the one-way (there will be no on-coming traffic as the loop is barricaded at the other end.) The police have been instructed to let customers to the Gambler. Just be safe and drive slow.
Nov 16th
Well, we were out striper fishing the last two days but it was no good. A few times, I saw mid-water readings and it looked like we'd get a shot but nothing happened. The Gambler's been north and south, in and out. On a few different occasions we tried chumming and baiting fresh clams but that didn't work either.

It might be tough till the water settles --it's still very stirred and cloudy.

The Gambler will keep going and we are going to work our hardest to put bass in the boat. It'll happen... hopefully sooner than later
Nov 12th
Looks like the Gambler will be back in action for striped bass starting this Thursday, November 15th.
We now have the okay from Point Pleasant PD to bring customers to the boat. Just head down Broadway as you usually would. When you get to the bottom of Broadway (just over the little bridge) carefully make the first left. You will be going opposite down the one-way on Inlet Dr. You may need to tell the officer at the barricade where you are going --they've been instructed to let you through if you are only headed directly to the Gambler dock.
The Crew and myself want to get back to work, putting you on the striped bass!
November 7th 2012
We hope that you and your loved ones are safe after Hurricane Sandy.
The Gambler nor her dock have sustained damage due to the storm, but Point Pleasant and the surrounding coastal towns are in tough shape. As of today (11/7), it was difficult to reach our dock at Point Pleasant Beach. Lines are down and barricades are up. I will speak with the powers that be in town to find when Inlet Dr. will be open and will inform you when access is clear. It's a sensitive situation. Stay safe and use caution when traveling to the Jersey Shore. Clean up and repair efforts are underway.
When we are clear to fish, we will be on the prowl for striped bass and blues. Trips will leave at 7:30 and return by 2:30. Fare is $60.00, Senior fare is $55 and Child fare is $35.
Our thoughts and prayers are with all of those who have been effected by this powerful storm.
Oct 19 2012
I had cancelled our Fri-Sat trip because of the weather report but the Gambler is going offshore tonight.

The trip that we fished Weds-Thursday was dissapointing. The water looked good --full of life. Squarms of squid, porpoises, mahi and lancet fish all around the boat. The fish finder showed marks all the way to 140ft. Caught and released a 50lb sword shortly after anchoring. But there was virtually no night bite. I'd like to blame it on the fact that the lines and chunks ran straight down (but I'm not sure that was the reason). I did not want to move the boat: I figured sooner or it would happen but It never did. Around day break we boated 3 nice longfin and expected the day-bite but by 9AM all the readings had left us.

Tried plans B thru M after that but nothing turned on. Beautiful weather but a bummer action-wise.

Plenty of tuna still out there, just gotta get em to bite
Oct 10/12
Very good canyon trip returned yesterday. Big yellowfin 60 to 80lbs, 60lb longfin and mahi up to 15lbs. Excellent action. Most had their limit of tuna that trip.
The canyon trip before that was chartered by the JCSA; left Friday and returned Saturday. Not as good as yesterdays trip but still pretty good.
Still open spots left but don't wait too long to sign up.
Oct 1/12
On our canyon tuna trip that left  on the 27th, we went to the Toms C
Water very clear but saw little bait life. Caught one 75lb sword fish in the dark morning hours. Also, just before day-break one 50lb longfin was boated...and a bit later, a 50lb wahoo came onboard. action died when the sun came up. Looked for the break again, anchored in 750'. 1-2 tiles caught and a Purple something-strange looking fish, but was white meated and edible...nothing else happening so we ran in to a wreck in 200'...a few big ling, white hake and pollack, then back out to the Toms for the second night.
On the drift again and picked up where we left off the night before with shots of 60 to 80 lb size yellowfins coming through every couple hrs...had to move out of the way of a longliner and dropped the hook after looking for the break. T'storms came thru but it never got too rough.  Underwater lights were awesome. A few more fish boated after the rains ended...as dawn approached, 40# leaders were the ticket for hookups...after 6AM, no more bites. Everyone had at least one tuna, most landed 2 or 3.
Crew and customers did a great job together to put tuna in the boat.
Tom, our galley man made hearty meals and his coffee will keep you at the rail and put hair on your palms.
Room still available on up-coming trips. It's even worth a last minute call to get on a trip.
Sept 17th
The fluke have been spread out lately. We can catch some on almost any of the regular grounds that we like to fish this time of year --but no great concentration of fish. Hopefully, we'll get one last solid shot at them before it's over.
Sept 11th
Fluking was on the slow side today. Still, many fish on the grounds just gotta get them to bite. Only a little time left to the season. Our last trip will be trhe 25th.
Our final Nite Wreckin trip will be Thursday, Sept 13th
Our final night bluefish trip will be Sat, Sept 15th
The Gambler is ready for a good canyon season. Plenty of spots available in October --but don't wait till the last minute to sign up. Trips will book up as soon as our 1st good tuna report comes in!
August 20th
Fluke fishing has been good most trips this week. A number of limit catches have taken on recent trips by the sharpies. James Davis is leading the monthly derby with a 8.5lber and had his limit fishing spearing squid combo. Plenty of short action and some sea bass too. The most consistant fluke fishing of the season lately.
Our Nite Wreckin' trip on Thursday was very good. Mostly ling, mixed sizes up to 3lbs. We even had some double headers.
The night blue fishing was great again on Friday and Saturday nights. About as good as you could want it on big chompers up to 12 + lbs.
August 14th
We had good fluke fishing most trips this past week. Some nice keeper fluke up to 6lbs along with a few sea bass up to 4lbs. On Saturday morning's trip, young Cody was working the bow and landed 9 keepers (retaining just his limit) and won the pool with a 5lber. Mostly fishing on rougher bottom, so you will lose some rigs and sinkers but that's where the fish are hanging now.

Still good ling fishing on our Thursday night wreck trips. Sometimes a little hard to get them past the blues which like to chomp them as their being reeled in. Overall, the night wreck trips have been consistantly good all season.

Night bluefishing was good this past weekend on big blues, fishing just east of our inlet about 20 miles
July 19th
Fluke fishing has been spotty lately. Had some bigger fishing the last couple days, up to 7lbs but the bite has not been consistant. Yesterday's trip produced some big sea bass too. The east wind may turn everything around by the weekend.
We missed tonight's wreck trip because of the weather but Sunday night should be good.
Big blues have moved back into range on our night trips. The mates told me that the huge choppers were up to 18lbs!
July 10
These past past few days were tough fishing for fluke. We caught some keepers and shorts and a few sea bass but the action was sluggish. From my experience, I'd say the bottom water was suddenly cooled by a change in the current. The fish are there and all it would take to get them biting again is a change in the wind or current.

The Nite Wreckin' trip on Sunday night was very good fishing on mixed ling up to 3+ lbs. Probably the best ling fishing of the night season so far.

The night bluefish trip on Saturday night was slow on medium sized blues, up to 6lbs. Capt Mike saw very many bluefish on the fish finder but they didn't want to eat, probably because of the thunder and lighting
July 1st
Had some decent fluke fishing these last few days. Good percentage of keepers landed on the morning and afternoon trips. Pool winners have been 5 or 6lbs. Not as many sea bass as last week, but still catching a few nice ones on our fluke drifts.

Our Nite Wreckin' Trip on Thursday night was good on mixed sized ling --small to 3lbers. Not as many squid on that trip.

Our night bluefish trip was decent on small blues --one and 2 lbers. The big blues have moved out of range for now. Shouldn't be too long before they move back in again. I remeber this happened last year --only last year we didn't have the cocktail blues to fall back on. One thing about the little blues is that they are very good eating
June 24th
Getting some nice catches these last few days... as long as we have a decent drift. Need to cover some area to put a catch together and some mornings there was very little wind to push the boat. Dennis Wargo had his limit one recent afternoon while working a Spro jig. Also, a number of bigger fluke and sea bass have come over the rail the last few days, including 4s, 5s, 6s and even a 7.25lber caught by Kirk Williams --and an 8.04lber landed by Jim Custer. We've also taken some lunker sea bass, up to 5lbs. And even had a few big triggerfish landed.
Last Night's bluefish trip was non-stop action on big, 8 to 12lb blues --riding 20+ miles but well worth the trip.
Thursday nights Wreckin' trip was decent on big ling with a few cod and sea bass in the mix. Not as many squid that trip but they are still around.
June 18th
Last few trips the Gambler had some decent action on fluke and sea bass. Some drifts actually caught more sea bass than fluke. Fluke keeper ratio has been pretty good lately, with pool winners up to 6lbs. And the sea bass have been mixed sizes with some real nice knuckle heads swung over the rails. There have also been an occasional cocktail blue, stray ling --and even a pair of 4lb bonito taken on this morning's trip --all caught while drifting for fluke
Last night's wreckin' trip ling bite was a little sluggish. The ones we caught were baseball bats but it wasn't very fast action. I guess you could say it was a pick. We had to shift around a lot.... Catch a quick 6 or 10 and then had to adjust to another part of the wreck. 3 keeper cod caught too, along with a few sea bass. A few big blues chompin some of our ling on the way up. Squid fishing was good. Mike M fished part time for squid and easily caught 20+. Squid were big, 6 to 8 inches. I would guess if someone fished all night for them, they could've caught 50 or 60. The Gambler has a limited supply of squid jigs. Best to pick up a few if you plan to fish for them. Smaller squid jigs seem to work better. Using a 6 to 10lb class spin rod, just cast the squid jig out past the lights and work it back to the boat. Sometimes you'll see a squarm of them chase it all the way to the boat before one latches on. Cool stuff. --Next scheduled to go Thursday night.

Our bluefish trip on Saturday night was excellent again. 20 mile ride but worth the action on 6 to 12lbers
June 14th
We missed yesterday and Tuesday due to weather. Back out this morning, the fluke fishing was poor. --It had been pretty good before the blow-- but the water was still stirred up. I'm sure the fluke fishing will get better within a day or so.

Our night bluefish trip on Sat was excellent. As good as you could want on 6 to 12lb blues. The big blues could be seen grabbing the baits just a few feet away from the boat.

The Nite Wreckin' trip on Sunday night was good. Tim Malpas caught 25 big ling. Jon Melito fished the whole night, strictly working a squid jig and he caught more than 100 squid.
June 4th
Steady fluke action again yesterday with a fair percentage of keepers. Nothing real big yet, I think our biggest fluke so far was just under 5lbs. Seem to be catching more sea bass on our fluke drifts lately with about 50% keepers up to 2 lbs.

We did not make it for our Nite Wreckin' trip last night. The storms kept everyone home.

The Gambler had an excellent bluefish trip on Saturday night with big bruisers up to 14lbs. The boat was fishing the Monster's Ledge.
May 29th
The Gambler crew would like to thank all veterans who have served the United Sates. Veterans who have served our country from the Revolution to present time.
If you are a veteran and are reading this now, we salute you and thank you.

The fishing was good this weekend. We had good catches of fluke and sea bass, both keepers and shorts, on our half day trips.

Our bluefish trip on Saturday night was excellent on 6 to 12lb fish.

And our Nite Wreckin' trip this past Sunday was good on big ling, though we did have to move a few times because the dogfish kept finding us. A few sea bass were taken but not too many cod or squid on that trip.

We have an annual Coast Gaurd inspection this Thursday, the 31st, so we will only be fishing the Afternoon
May 25th
Tomorrow, Saturday, kicks off our 1/2 day fluke trips. Should be some sea bass in the mix too. The first angler to land a keeper fluke will be awarded a free trip ticket. Our May/June fluke derby for the biggest fluke of the month will begin tomorrow also.
Sat night the Gambler will be on the prowl for big stripers and bluefish.
This Sunday night kicks off our first Night Wreckin' trip of the season. It should be good ling fishing. Bring you squid jigs too. Now thru June there should be plenty of squid swimming under our hull lights. Other wreck species possible to catch: Sea bass, cod, pollock. We'll be fishing depths of 90 to 125ft.
May 17th
Lots of blues and stripers around today. The fish didn't start biting good until late in the day but we wound up with a good catch of blues up to 15lbs and striped bass up to 30lbs. The fish were grabbing jigs, chunked baits and live baits. 
May 8 2012
Slow striper fishing this past week. Some bass and blues were around but scattered and hard to catch. I am sure it will bounce back soon.
April 11
Yesterday was good bass fishing early. Most had at least one keeper and some had 2. Nice sized fish. No shorts. Seemed to stop biting after 11AM but we had a good catch by then.

Today the bite didn't start till 11AM. Saw loads of life all day but they were not jumping on the lures. In the end, most guys had a keeper or two and a few even managed their bonus fish.

Jerry won the pool today with a 17.5lber he caught on a big croc spoon.

I think it's good weather for the next few days.

We are leaving a little earlier than our fall schedule: 7AM.
APRIL 6
Had a good catch of bass today. 10 to 15lb fish. 1st drift of the day was best, steady action, long drift. Then we had another, very long, 2-mile drift where we held one to two fish on for most of the way.

Hard to find them today and our customers had to work at it --they were not "jumping in the boat". But in the end most guys had at least one keeper, others had two and a couple even landed their bonus bass.

Looks good for tomorrow. Sunday we are not fishing but will resume again on Monday.

Fishing for striped bass every day 7AM till 2PM
Feb 6th 2012
 Very good ling fishing on nice sized ling the past few trips but  few cod being taken. I guess the bottom water is still too warm yet. If you want to catch a lot of red hake fillets for the freezer, now would be a good time. Ling are my personal favorite eating white meat fish: fine, delicate, white fillets. Other fish that we've been catching besides ling and cod: blackfish, sea bass, pout, conger eels, pollock, toadfish, dog fish, sea raven and mackerel. Also, sighted where we've been fishing: whales and dolphin; great black-back gulls, herring gulls, black legged kitty wakes, dovekies, gannets and northern fulmars.
Jan 31st 2012
On Saturday the Gambler searched further offshore hunting for bigger cod. Caught just a few nicer ones up to 10lbs and a 12lb pollock but it is still not ready out there. Managed to find a good catch of ling and some smaller cod up to 8lbs on Sunday.
Jan 18 2012
We were not out today due to the high winds and rough seas. On Monday, we had a good catch of ling and a few cod. Bill Bryne of Toms River caught about 2-dozen ling, an 8lb purple hake and a 6lb cod. Weather permitting, we'll be fishing everyday.
Jan 12th 2012
Good amount of ling, large to small, on every trip so far. Cod numbers get better each trip as the water gets colder. Pete from Stroudsburg PA caught about 10 cod on wednesday and about 20 ling. No big cod yet, pool winners have been up to 8lbs. The bigger cod should be here any day.
Jan 2nd 2012
The Gambler was out for stripers on Saturday but did not find too much. We'll be trying for striped bass through Friday. They may just pop up again. Starting on Saturday,  the 7th, we'll begin our winter wreck fishing. See schedule above.
Dec 27th
 Just spoke to Capt Mike who has the Gambler out fishing for stripped bass today. By 10:00 AM they had caught a dozen or more stripers. Only a couple of them so far were keepers but they have another 4 hours of hunting to go. Still, for this time of year the water is still warm and it's good action. I can't see any reason why we wouldn't be fishing for stripers into the 1st or even second week of January. After that, we'll be making some cod trips.
Dec 22
Good day of bassin' again today. Started south of our inlet where we had been catching but the life was not there. Took a cruise north and found birds and readings from Spring Lake to Longbranch.

The action was a lot more erratic than it has been but we caught bass on just about every drift.

Saw bluefin tuna on top today, caught 3 blues and a fluke that hit a jig. Water is still 50F!

Some guys had 2 keepers, most had one and everyone had short action.

We'll be out tomorrow Sat, same hours
Dec, 9th
Hadn't been out fishing for a couple days but we made it off today and the Stripers turned on with a vengence. Within the 1st 20 minutes of the 1st drift, the boat landed at least 10 keeper bass plus some blues and short bass. It was good fishing all day. The weekend looks nice,
Dec, 6th
Not out today due to the weather. Monday was still okay fishing, with a few keeper striped bass, some short fish and some bluefish. We should get another good shot of stripers before Christmas.
Nov, 28th
 On Friday, the Gambler had good striper fishing. Despite  the boat traffic, the action held up till around noon and we had a nice catch of bass up to 20lbs, along with a few shorts and blues.
Nov20th
Saturday was tougher, really had to work at it. But, still, we had a guy with his limit plus a bonus fish. Yesterday was slow. Saw bass okay on the machine but didn't bite too well. It will bounce back --maybe today, even. Lots of time left. Still plenty of baitfish around and the water temp is hovering around 52F. 
Sat, Nov 12
Good action the last couple days, despite all the wind. The bite seemed to slow down after noon time but still a good amount of keeper bass along with big blues. Yesterday, Josh Shaw of Wayne, NJ, won the pool with a 23lber. This morning we had a drift that caught stripers and blues that lasted 2 hours! Fishing got to be kind of tough in the afternoon because the wind and sea picked up pretty hard out of the south. There is a lot of bait-fish around and I predict that this is going to be a great striper season.
Weds, Nov 9th
 
Very good striper action today. Many keepers with some big blues and a few short fish.

The fish are feeding on sand eels so A-47s have been working well, with or without tails. Dave Mork caught a couple big bass on a white croc too.

Jigging near the bottom did NOT catch fish. You need to cast, let it hit the bottom and retrieve medium speed all the way home.

Don't let the NW wind keep you home on Friday --we've had some of our best bass catches in hard NW wind. Fishing just a mile or so off the beach, it doesn't even get rough in a hard Northwester. The weather looks good right thru Sunday. Raining? Bring your rain slickers and lets go!
 Mon, October 24
Just returned from back-to-back Canyon trips. Both were very good. Saturday's trip limited-out on yellowfin. Also caught mahi and skippys. Trip that returned last night landed about 50 yellowfin, most around 30lbs up to 65lbs. A 50lb longfin was taken. Hightlight of the trip was a 13+ foot swordfish --estimated at over 450lbs.
There is still room for tomorrow night's trip, as of noon time today. Weather looks ok.  Call 732-295-7569 to reserve.
Mon, October 17.
have not been able to make our trips this week,do to heavy winds and rough seas. The water offshore still looks good, should be plenty of tuna in it. Just need a break in the weather. Still some spots left on our last few trips of October.
Tues, Oct 11th
Just came back from a trip last night. Fished the Spencer canyon. Plenty of tuna at that canyon but it was hard to get them to bite. Lots of boat traffic hurt the fishing. Did catch some tuna but not what were hoping for. Water was beautiful. A lot of good water still moving down the banks. Canyon fishing should be good through the month.
Weds, Oct 4th
Our 24hr Sat-Sun trip was good. Longfin, yellowfin, swordfish,  mahi and tilefish were taken. As long as the weather holds, this will be a very good canyon season. Don't miss it.
Saturday Oct 1, 2011
Just came back from a very exciting 48-hour canyon trip!  There were few breaks in the action from the time we got to the tuna grounds til the time we left. On the first night/day of the excursion, we drifted for miles catching longfin tuna in the 25-50lb range, yellowfin tuna in the 30-60lb range, some mahi mahi, tilefish and a swordfish. Fish were taken on both bait and jigs. Midway through our second day the action slowed up, and as we were riding towards another location, we stopped near some flotsam and had some very good mahi mahi action. The mahi ranged for 4-20lbs. The entire boat was hooked up on these colorful acrobats and we caught them for a solid 2 hours before we moved on. By the time we settled up on the anchor at our new location, the wind and seas came on strong - making for difficult conditions as the tide was against the wind. But within the 1st hour and a half, Chuck Eaton landed a big yellowfin and it was "game on" again. We had a steady catch throughout the night of longfin, yellowfin, and another swordfish. The wind and the seas lightened before the morning and around 4AM, we had a flurry of action that lasted until about 6AM. It was a great trip - everyone on board caught lots of fish and all went home with a tired smile on their face. 
During the trip we also saw several different species of whales, porpoise and various sea birds.
Truly a trip to be remembered.
Mon, Sept 19th
 Wow, where is this month going? Still catching fluke, lots of action. Lately, we go through many short fluke to catch a keeper. Also catching many cocktail blues almost everywhere we fish for fluke. Some are just snappers but others are good eating size 1 to 2 lbers.

Fri, Sept 16
Plenty of action everywhere we fished this morning but not a lot of keepers. Still catching taylor blues and sea robins too. Our "Nite Wreckin'" trip, this past Sunday, was pretty good with some big ling and mixed sized cod. Only 9 more days left to the fluke season. Don't miss it --it'll be a long winter.
Sat, Sept 3rd
Sorry about the missed reports --tech difficulty.
Since the storm, we have been catching a lot of fish on our 1/2 day trips --not a lot of keepers but plenty of action. Besides fluke, we have been catching mixed sized sea bass (up to 3lbs), taylor blues, small weakfish, jacks, lizard fish, sea robins, sundials, sand sharks, squirrel hake and skates. Pool winners most trips are between 3 and 6 lbs.
Our night trips for blues and wreckin' were slow this week but it should bounce back soon. We'll be fishing for fluke right up to thru the 25th.
Thurs, July 28th
Lately, there has been a lot of action in shallower water both North and South of our inlet but just a few keepers in the mix. And when we fish off the beach in deeper water, we are catching some nice sized fluke and big sea bass but the action is not as fast. So most days we are mixing it up by doing some off and some in.
It sounds like the bluefishing has been off lately, but we'll see what happens when we check out some old areas this Friday and Saturday nights.
We'll be looking at some different grounds for our "Nite Wreckin'" trips tonight and Sunday night. This past Sunday's night wreck trip was slow for ling and cod but we took a good amount of squid again.
Thurs, July 21st
Overall, the fluke fishing has been decent. As long as the wind is not too strong or too light, we've been catching fish. Seems like a lot more fluke around than last year. A good percentage of the fluke are keeper size and the pool winner most trips have been 5 or 6 lbs. We are also seeing some sea bass, small blues and ling on some of our fluke drifts.
Our "Nite Wreckin'" trip this past Sunday was poor because the wind came on strong and it turned into a rough night. They did catch a few cod and ling, though.
The night blue trip this past Saturday was good. Plenty of 8 to 10 lb blues around.
Tues, July 12th
Wow! Bud Brown landed a 14lb 12oz doormat on the 9th. Huge fluke!
The fluke fishing has been a little tough the last couple days --either too much drift or not enough. The next few days look like better conditions, though.
Our "Nite Wreckin'" trips have been good. This past Sunday there were a good amount of big ling taken, along with some sea bass and a few cod.
Our night bluefish trip was slow this past weekend. I guess we're into the July doldrums for blues. It should pick up again within a few days.
Tues, July5th
Some big fluke reeled in our the weekend --quite a few 4 and 5 lbers and a 7.0 lber is currently leading the July Monthly derby. Picking at some sea bass on some fluke drifts too.
Our night wreck trips have been good --catching cod, ling sea bass and squid. 
Our bluefish trip on Saturday night was a little slow. We caught some 8 to 10lb blues but it could've been better.
Thurs, June 30th
Last couple days were slower but bounced back today with nice fluke action. Quite a few keepers, some over 4lbs including an 8lb 3oz fluke taken by Anthony Liscio of Brick. Some keeper sea bass starting to show up on our fluke drifts too.
Getting baited up and ready for our "Nite Wreckin'" trip, which will leave tonight at 7:30. Been catching big ling, mixed sized cod up to 10lbs and squid on these trips.
Tomorrow and Saturday night are blue trips and our next "Nite Wreckin'" trip will leave this Sunday. 
Fri, June 24th
Fluke fishing action is holding up. It's been a good season since the start. Higher percentage of keepers lately too. A few sea bass starting to show up.
This is our last weekend for night stripers. Starting July 1st, the Gambler will switch over to night blues on the same nights: Friday and Saturday, 7:;30 till 12:30.
Our last two "Nite Wreckin'" trips were good. Catching some big ling, cod, a few sea bass and --lots of squid! We're  catching squid on squid jigs just below the surface, under the Gambler's powerful,  built- in hull lights. The amount of sea life drawn in by those lights is incredible --something you gotta see for yourself. One angler on last night's trip landed over 70 squid --6 to 12 inches long. Good calamari.
Monday, June 13th
Lots of fluke coming over the rails this past week --good steady action. Often, it seems we go through 10 or even 20 "short" fluke to get a keeper but high hooks on most trips are 3 or 4 keepers up to 4 or 5 lbs.  Catching lots of other species on our fluke drifts too: Small blues, sea bass, sea robins, sand sharks, skates and sun dials in the mix. With all the action, our 1/2 day trip is a good one to bring the kids and  grand kids on. Our mates are great at helping any novice catch fish and have fun.
Our "Nite Wreckin" trip last night had a pretty good start. We caught a decent amount of ling, along with a few sea bass and cod.
Monday, June 6th
Our fluke fishing this weekend was good. Plenty of action. Many throw-back size fluke but also some big ones --up to 8lbs-- in the mix. Not too many sea bass seen yet. We are also catching more sundials than I've seen in a while, along with some small sand sharks and sea robins. Rocko Catalano and his son Jon landed 6 keepers up to 4lbs on the morning trip yesterday. Ed Moore took an 8lber on Saturday and there was another, almost 8lbs caught by 9 YO Ean,from Allentown, NJ.
Our night striper trips have caught some very big bass, up to 40lbs, but they are tricky to catch. They are around but they are smart --I guess that's how they got so big.
Looking to get out on our "Nite Wreckin'" trip tonight.
Thursday, May 12th
Very good fishing on big blues and stripers today --near to home. Fish grabbed anything that was cast to them. A little troublesome to get through the blues to catch bass but everyone had at least one keeper striper and most had two. The stripers were up to 32lbs and the blues ranged from 5 to 15lbs.
Monday, May 9th
The Gambler made her first trip for stripers this Friday and we had a great trip. Non-stop action on big bass. Almost all keepers, big fish up to 25lbs. 2 bluefish were caught also. The Gambler ran far to the North but our speed got us there quickly.  The bass were hitting big croc spoons retrieved medium speed.
We ran out the very next day, looking for a repeat, but it was like somebody shut off the switch. Tried many different spots but had no action at all! That's fishing, I guess.The Gambler is out right now, Monday morning, just left the dock with capt Mike at the helm.  --A whole new day, a whole new ball game.
Friday's Report
Not great big numbers or great big fish --but still decent fishing with cod, some really nice ling and a few keeper blackfish hoisted over the rails.

Friday was a bit choppy but not rough. We had a small group so I fished myself. I landed 4 keeper cod (up to 10lbs) and 2 big ling, plus released 4 short cod.

Machinest Steve caught 4 keeper cod, a blackfish and several big ling.

Steve Kim was out with his boys and they took home 5 or 6 cod plus some ling.

The cod action will hold up through the month and I think the ling bite will keep getting better.

The winds look favorable for the next few days.
 Capt Bob
Sat, April 9th
Decent cod action today. Mixed sizes to 12lbs. We caught a few jumbo ling and keeper blackfish too.
Mon, April 4th
Sunday's Cod trip was a lot like last Sunday's trip. It started out good, with a fair number of keeper cod, some shorts and some ling. As the day progressed the bit slowed up. Mike Malpas and his brother Tim had 12 keeper cod and 6 ling between them. Next window forour cod trip looks like Thursday.
Weds,March 30th
Our last cod trip was this past Sunday. It was a good start. The 1st hour was best. We had a good shot of keeper cod, along with some shorts and nice sized ling. 
Our first Tuesday Taugin trip sailed out yesterday with 18 guys. We caught about 10 keeper blackfish and 30some short blacks.
Weds, March 23rd
The weather looks good for this Friday, Sat and Sunday. The current will have slacked up and I think we'll have some good cod fishing. It'll be a whole new ball game --come on out.
Monday, March 21st
Cod fishing has been slow the last few trips due to a stronger than usual current. We have caught a few cod on all the wrecks we've hit but but not real good lately. By the mid to end of this week the current should slack up and the cod should start biting again.
Monday, March 14th
The Gambler had a fair catch of cod, with some nicer sized fish, up to 20+ lbs. A few ling and pollock were landed too.
Monday, Feb 28th
This weekend's cod trip was slow. We caught a few cod and a few ling but the bite was sluggish.
FRIDAY, FEB 25TH
Our cod fishing was a bit sluggish on Weds but bounced back nicely on Thursday. Thursday's trip produced some big cod, including several over 20lbs. A pair of big pollock came over the rails too, up to 28lbs, caught on vike type jigs.
Thursday Feb 17th
Pretty good cod fishing today in deeper water. Guys landed anywhere from 2 to 6 keepers. Some smaller cod but some really nice fish too; a few 10s and 15s and 20s and one well over 30lbs.

Bucktail Bob Caught 2 back to back 20+ lbers and had a couple other keepers.

Frank Copresti landed a slob 38lber, had 2 other nice keepers and a 7lb pollock.

We were mostly fishing deep and we did have some ling too.

Nice looking weather for tomrw, not looking too good for Saturday (wind wise) Sunday and Monday may be good weather.

SAT, FEB 5TH
The Gambler had decent action on her 50 to 75 mile offshore wreck trip yesterday. Cod (up to 25lbs), pollock (up to 20lbs) and ling up to 4 lbs were boated. The weather held up till it was time to go home (got bounced around a little on our trip back. I will keep an eye on the weather and post trips accordingly a few days ahead.
TUES, FEB 1ST
We had a slow trip on Saturday but pretty good fishing on Sunday. It looks like we have a good window on Friday, the 4th. The boat will leave at 3AM (show up time suggested 2AM) The Gambler will run to wrecks further offshore --50 to 75 miles. Fare is $150 --no resv needed. Targeting cod, pollock, ling and  hake in depths of 150 to 200 ft. Looks like great weather --just show up and fill the cooler!